Emdad Rahman reviews Exploring Beanibazar,
a film made by Foysol Mahmud.
The first viewing of Explore Beanibazar was a resounding success, as a capacity crowd flocked into the Brady Arts Centre near Brick Lane to watch the landmark heritage documentary.
The hour-long motion picture by journalist and film maker Foysol Mahmud saw hundreds of visitors came to be part of what has turned out to be a monumental occasion.
Explore Beanibazar is the result of an individual's passion to highlight the history, beauty and significance of this influential region of Bangladesh. Mahmud has painstakingly put together a great piece of film, which will not only promote Beanibazar in a positive light but also serve as an invaluable resource for future generations – for natives as well as the expatriate community scattered all over the globe.
The inspiring creative content in this documentary has sparked a great deal of interest in the heritage and history of Beanibazar. Young people from the diaspora community with roots in Bangladesh will take a keener interest in their customs, cultures, traditions and ancestry after seeing it. The film will help develop a sense of belonging and unity, for if we know our past, we can be confident in where we are heading.
Heritage is invaluable, significant and hugely important to us all as human beings. It enables us to savour a golden past and enables us to glorify and enjoy the present and then ultimately pass on our heritage to those who come after us.
Explore Beanibazar helps promote values through expression, brings worth and value to discussions, highlights our dreams and paints a vivid picture of how we have evolved throughout time.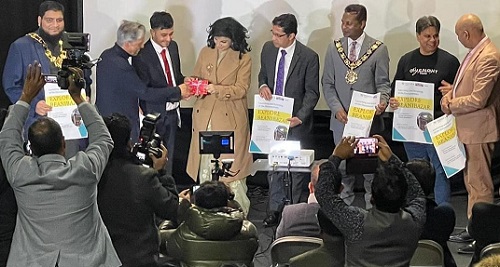 This production sheds light on the past and through the mention of traditions and history it encourages the viewer to ask questions about bygone days, the present and the future as it helps instil a greater sense of awareness whilst stimulating thoughts and discussions on who we are and how we have come to be. One cannot deny that our heritage is key in helping shape our view of the world as it influences the role we play within our respective communities.
Mahmud's exceptional efforts will play a big role in encouraging communities to take a keener interest in the conservation of their rich heritage. Even in Beanibazar itself, the film will help with the development and uplifting of neglected areas of the region as people review and reconnect with their roots. Therefore, it is imperative that heritage and history are accredited and acknowledged in order to be enjoyed by those in the present as well as the future.
The launch of this film was a resounding success – despite the main viewing auditorum being unable to accommodate the majority of visitors. The spillover resulted in the foyer and reception area of the Brady Centre filling up – with even more people having to wait on the street outside. So popular was the launch that it is safe to say that a larger number of patrons visiting didn't actually get to view Explore Beanibazar nor meet with the Director.
This should be only the beginning for this super project and I (among others) have made my recommendations to Foysol:
•to develop the film further and add subtitles;
•to organise a roadshow with Q&A session all over the UK and abroad;
•to launch an education programme in schools;
•to inspire and assist other Upazilas and regions to do the same for their diaspora.
I hope this film will lead to more heritage projects blossoming, to raise awareness and inculcate a sense of belonging, especially for young people.
Special guests on the night included Bangladeshi High Commissioner to the UK Saida Muna Tasneem; Camden Mayor Nasim Ali; and Speaker of Tower Hamlets Council Shafi Ahmed.
Mahmud, the man behind Explore Beanibazar feels there is more to come. He said, "Heritage is beautiful and important for us all. I hope my humble efforts will spark discussions and encourage interest from not only my community, but others too."
●Beanibazar is a sub-district (Upazila) of the Sylhet District of Bangladesh. The region boasts a sizeable expatriate population, notably in the United Kingdom and United States.
●Read more about it:
Dagenham hosts inaugural Beanibazar Club Badminton festival
Beanibazar & Chattak unite for cancer care