Emdad Rahman
DARUL UMMAH ACADEMY held their annual presentation to celebrate youngsters and their achievements over the course of the academic year.
The packed awards ceremony at the Mayfair Venue in Romford hosted parents, teachers and volunteers and was co-ordinated by teachers Bodrul Hussain and Azadul Hussain.
Guests in attendance included H M Abu Sayeed and Shabbir Kawsar; teachers Amina Tayyibah, Jasmin, Noreen and Sabah; and volunteers Nurul Amin, Kamrul Islam, Mehdi Abidin, Rongu Miah, Monzur Haque and Zoinul Abidin.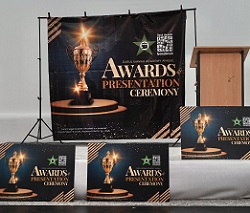 Students performed short plays and delivered spoken word poetry performances to entertain guests. This was followed by presentations for end of year prizes, which were shared for achievement, attendance, attainment and good conduct. In a rare gesture, there were special thanks and gifts shared by the management team for the teachers and vice versa.
Darul Ummah Goresbrook Academy encourages students to aspire to be active citizens, and several volunteer their free time to take part in helping out with community litter-picking alongside their parents. Others help their parents support the weekly foodbank.
On behalf of all at Darul Ummah Goresbrook, Zoinul Abidin shared an important message: "Our Academy places great importance on using faith to develop our young people and to help them become outstanding human beings. We place lots of emphasis on using the knowledge gained and implementing practice so that the learner becomes a person of value for our community. We thank everyone, pupils, parents, teachers and volunteers for their unstinting support, and lastly we say well done to all the children for their marvellous achievements."
●Read more about it:
Litter picking debut for Darul Ummah Volunteers
Platinum Jubilee Litter-pick for Darul Ummah Goresbrook