Ismael Rahman
Ahead of this summers showcase football tournament, Beanibazar FC launched its team kit at Ropewalk Gardens, London E1. 
The Greater Sylhet Upazila Cup 2016 will see Bangladeshi UK veteran teams coming together at Mabley Green, Hackney, to represent the region of Sylhet, Bangladesh that the players originate from.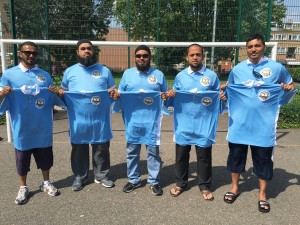 The kit launch was attended by goalkeeper Shamimuz Zaman, Assistant manager and centre back Kamal Chowdhury, midfielder Abdul Hamid Yusuf, Beanibazar Cancer Hospital Marketing Director Forhad Husaain Tipu, Beanibazar Sporting Club UK Secretary Fokrul Islam and Selim Uddin. 
London Federation of Sports and Recreation winner Fokrul Islam said, 'The Upazila Cup will see another football carnival in our capital city. London is the most diverse city on the planet and football enriches our society. We are proud to be a part of this colourful event and really looking forward to a great day out.'
Assistant manager Kamal Chowdhury said, 'We are excited to launch our kit today. It's a standout colour and hopefully our performances in the cup will be of a similar standard. 
'The Upazila Cup is a popular initiative and we are proud to take our place alongside other teams. It is a great way to remember our roots and the positive contributions we make as British citizens.'
Manager Emdad Rahman MBE concluded, 'We've launched our kit at Ropewalk Gardens, near to the site of the old Berner Estate sand pitch. It's a place I grew up and played football along with two of my team mates present here today (Shamimuz Zaman & Abdul Hamid). The area holds lots of happy memories and is very inspirational in a football sense. 
'Sonali Othith have once again organised a superb community event. It will be a festive day with lots of football fun and great spirit. Beanibazar are looking forward to taking our place amongst our football fellows.'
The much anticipated football carnival takes place on Sunday, 28th August from 10am. 
Entry is free and the event is family friendly.
What? Greater Sylhet Upazila Cup 2016
When? Sunday 28th August 2016
Where? Mabley Green Astroturf, Lee Conservancy Road, London E9 5RN
For further information contact Kobir Chowdhury 07974 798 908. Email – kobirc@sonaliothith.org