Emdad Rahman
Beanibazar are to play Dakshin Surma at Stratford Drapers in a friendly benefit game for Beanibazar Cancer Hospital.
The two teams will face off with squads made up of veteran players aged 35 and over, with the majority hailing from East London.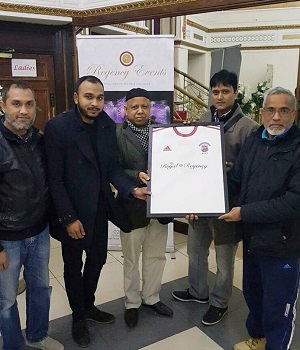 Speaking after the announcement was made, Beanibazar Sporting Club President Mesba Ahmed said, "With Ramadan a few weeks away we hope to not only play out a great game of football but contribute to a charity which is bringing immeasurable benefits to its patients."
Dakshin Surma President Abdul Mohid added:, "We are very pleased to be the opponents for this prestigious friendly. This will not only be a spectacle as a game but we hope lots of awareness and money will be raised for Beanibazar Cancer Hospital."
The teams last met in 2016 at Stepney Green in a game which Beanibazar won 2-0, courtesy of goals by Saim Hussain and Atiqur Rahman.
Beani Bazar Cancer and General Hospital is a charity based in the UK that aims to create awareness and provide medical treatment for disadvantaged cancer patients in Bangladesh.
•For more information, go to:
http://www.bbchospital.org
•To donate, go to:
www.justgiving.com/BBBU
•Read more about it:
Goal frenzy as Beanibazar and Chhattak play cancer benefit
Footballers brave the cold for Beanibazar Hospital benefit
[Adverts]