Emdad Rahman
A packed house at The Venue in Forest Gate broke their Ramadan fast together at an event organised by the Beanibazar Welfare Trust UK (BWTUK).
Notables in attendance on the night included Mayor of Newham Rokhsana Fiaz OBE, Rushanara Ali MP and Labour London Assembly Member Unmesh Desai.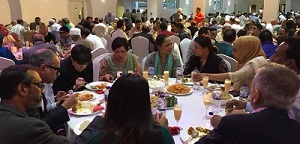 Guests were welcomed by Delwar Hussain, President, Mahbub Ahmed, General Secretary, and Dilwar Hussain, Treasurer of BWTUK.
They said in a joint statement, "On behalf of the Beanibazar Welfare Trust UK, we would like to thank everyone for attending our annual Iftar gathering. It was hugely successful and your attendance meant a lot to us. We hope to meet you all again soon at our future events.
"We would also like to extend our sincere gratitude to all the Board Members and other members of the trust for assisting us in making this a successful event. Special thanks go to Grand Rasoi for providing such a professional catering service.
Moklisur Rahman, who attended the event, commented, "Ramadan is a time of great reflection and togetherness and it's appropriate that we have all come together as one to celebrate our successes whilst breaking bread together."

•Read more about it:
Beanibazar Welfare Trust UK hosts glittering awards night
EL Mosque announces Ramadan info
[Adverts]