Check the labels on any skin lightening products Santa brought you, warns London Trading Standards. Thousands of image-conscious Londoners are risking their health and even their lives by continuing to use banned skin lightening creams that can seriously damage organs and even cause cancer, according to London Trading Standards. The capital's trading standards' association – which works with London's 33 local authorities – has renewed its health warnings to both the public and local traders about the damage such products can cause.
Steve Playle, from London Trading Standards, said: "Our teams have seized thousands of illegal products this year from hair and beauty salons and shops, highlighting the scale of the problem. Many of these products contain dangerously high levels of hydroquinone, mercury or steroids which can result in a host of problems from skin thinning and discoloration to organ damage and even cancer in the long run. It is an offence to distribute cosmetics which have not been tested and registered by their manufacturer or importer. These traders are not only playing with the lives of their customers, but they also face prosecution, fines of up to £20,000 and even the possibility of jail. Most of them know what they are doing is wrong as they hide the products under the counter or in stock cupboards."
The Cosmetic Product Enforcement Regulations 2013 make it an offence to distribute non-approved cosmetics. Earlier this year, London Trading Standards tested a number of samples and found one in five contained hydroquinone, while one in six contained significantly high levels of mercury. Increasing numbers of creams with steroids are being seized. One sample, believed to be counterfeit, contained more than 8% hydroquinone. In the past few weeks alone, traders in Enfield and Southwark have been successfully prosecuted, with one receiving a suspended jail sentence and both being ordered to pay thousands of pounds in costs and fines. A number of other prosecutions are imminent. Traders are advised by London Trading Standards to check their stock has the required labelling, including an ingredients' list, EU name and address plus batch number.
London Trading Standards is a member of National Trading Standards, which funds and co-ordinates national and regional enforcement cases and has been carrying out a project centred on ports to prevent the importation of illegal cosmetics. This resulted in 670,891 non-compliant cosmetics being detained, with 46,495 products assessed as unsafe. However, illegal products are still finding their way onto the High Streets of London.
The use of skin lightening products is popular in the UK among women and some men from African, Asian, Latin American and Caribbean backgrounds. While some people will bleach their skin to remove blemishes, the main reason is rooted in complex social, cultural and historical factors and is often perceived as being modern and fashionable.
Beauty blogger Wande Alugo from London who founded the WandesWorld blog, is supporting the London Trading Standards campaign and is calling on people from ethnic backgrounds to be proud of their skin colour and heritage. "I used skin lightening creams when I was younger because magazines didn't have pictures of people who looked like me," she said. "But I did some research and stopped when I realised just how harmful these products are. It's crazy that people are prepared to risk their lives just to have a lighter complexion. We should all be proud of who we are, whatever our skin colour. Using these products can have the exact opposite effect of what you are trying to achieve. You don't want to be sitting in a hospital bed because you have self-inflicted skin cancer which is incurable."
Dr Bav Shergill from the British Skin Foundation added: "People need to be aware that there are dangers associated with use of these products, which are banned for a reason. The negative side effects can have a huge emotional impact on the user, so it is important to discuss any issues or concerns you have about skin tone with a health professional."
If you are concerned about any products you have bought or received as gifts or seen on sale, you can report the matter to the Citizens Advice Consumer Service on 03454-040 506, which will refer the matter to the local Trading Standards team.
•Further information about the dangers of skin lightening can be found at: www.londontradingstandards.org.uk
•WandesWorld beauty blog is at: http://www.wandesworld.com/
[Adverts]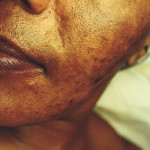 These pictures show skin damage caused by chemicals found in skin lightening products.

Fact file on harmful skin lightening ingredients
The following ingredients found in some skin lightening products have been proven to be harmful to health and cause permanent skin damage.
•Hydroquinone – which inhibits production of the pigment melanin which gives skin its colour. However melanin is vital to protect the skin against UV radiation so your body will over compensate by producing more melanin. This results in a darker patchier appearance developing; it damages the elastin strands in skin causing premature ageing and weakening of the skin; it can cause neuropathy (a disease of the nervous system) and it can damage your liver. It also increases the risk of skin cancer from UV radiation. It has been illegal across the EU since 2001 to sell products with hydroquinone.
•Mercury – which is toxic and accumulates in the body, damaging the kidneys, liver and brain, causing a host of serious and potentially fatal health problems. It can also cause foetal abnormalities if used in pregnancy. Mercury has been banned from consumer cosmetic products since 1996.
•Steroids – (topical corticosteroids) such as clobetasol propionate and betamethasone dipropionate should only be used under medical supervision. They are prohibited in cosmetic products. Misuse can cause skin thinning, stretch marks, bruising and broken veins. Eczema, psoriasis and acne can all flare up and there is an increased risk of skin infection, sores and boils. Prolonged use can affect the release of hormones that control and stabilise vital functions with very serious or life threatening consequences. Steroid-based creams have legitimate medicinal uses but can only be supplied on prescription in the UK. Such products must also be licensed under medicines legislation and they should not be available from cosmetic retailers.
[Adverts]