Muhammad Ismael
EMDAD RAHMAN MBE has signed up to run 100 kilometres for Running Down Dementia. The community volunteer is also a Dementia Friends Champion and is lacing up to defeat dementia. For the second year running, the Freeman of the City of London will run 100km to power life-changing dementia research.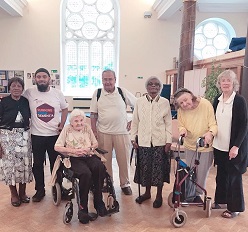 Emdad was invited to the Neighbours in Poplar elderly luncheon club and get together group at St Matthias Old Church to join elderly guests in a performance organised by the National Ballet. The group mingled and chatted, and there was much encouragement for Running Down Dementia.
Emdad said, "I'm inspired by the work of Alzheimer's Research UK and wanted to support them by participating in Running Down Dementia 2018. The more people who know about Alzheimer's Research UK, the greater their impact, so please also spread the word by sharing news about my exploits and my page with friends and family. Thank you in advance for your generosity, it means a lot!"
Sister Christine Frost MBE added, "Dementia is fast increasing on a day by day basis and we face new challenges every day to support our local residents and those who rely on Neighbours in Poplar. This is a great initiative and will do so much to highlight the need to come out and be supportive."
•Neighbours in Poplar provide multi-faith care in the community through practical support and care for vulnerable people who are living at home, regardless of their faith, age, race, gender, culture or disability. The team also provide disadvantaged children with breaks from their normal environment during the summer holidays.
•To donate to Emdad's Running Down Dementia campaign, go to:
https://runningdowndementia2018.everydayhero.com/uk/emdad
•Read more about it:
Leftley Sports Club become Dementia Friends
Emdad completes Cycle Down Dementia challenge
[Adverts]