COME AND HAVE a plant-based fun day out on Saturday, 18th August at the Tower Hamlets Food Growing Network Summer Gathering.
The event is being held at the Barkantine Hall, E14 8SJ, on the Isle of Dogs and kicks off with a relaxed registration period from 10.30am-11am – during which you can enjoy tea or coffee an look round a range of food related stalls.
The main programme begins at 11am with an hour of short talks and short films about various aspects of growing food in "small urban spaces". There are then workshop sessions to choose from: balcony growing and taking plant cuttings.
The third workshop will be a discussion for local residents on how to "green" the Barkantine estate. This should be interesting – as the first hurdle will be how to deal with the landlord, One Housing Group (OHG), which has a track record of trampling on the wishes of local residents.
OHG appears to be sponsoring the event, so let's hope there are no conflicts of interest if and when residents raise problems with their wayward landlord. It is not clear whether OHG has made a financial contribution to the event or, if it has, whether residents were consulted about whether they wanted their rent money to be spent in this way.
After all that talking, participants will be able to enjoy lunch – and you can then walk off your food with a tour of the locality and then a visit to the E14 fun day.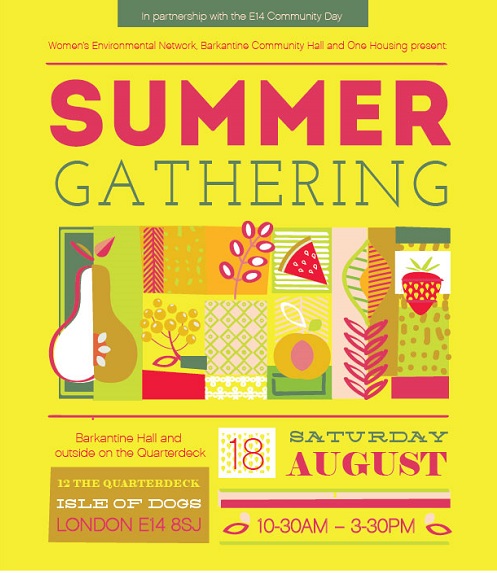 •For more information about the Women's Environmental Network and/or the Tower Hamlets Food Growing Network and/or its Summer Gathering, contact:
Maddy@wen.org.uk
•To register for the event, go to:
Summer Gathering
•Read more about it:
Mushahid is running for charity
Nursery campaigners find support in Roman Road