Muhammad Talha
THIRTY-FOUR WALKERS, young and old, have taken to the streets to highlight the plight of people affected by food poverty.
Volunteers at the Docklands Community Initiative foodbank completed a seven kilometre loop of the Isle of Dogs, a community walk for a good cause which involved young people, their parents and carers.
The idea and inspiration for the walk was 13 year old Maci Johnstone who started the innovative campaign to raise awareness of the free food services offered by the team and to highlight the levels of hardship faced by people in poverty-stricken areas.

The walk began at the food hub headquarters, Phoenix Court, with Bookbike London. DCI has a dedicated library with weekly sessions when locals can share books. Participants were given a book as a gift in appreciation of their efforts.
As part of civic and community engagement, the young walkers took a break to clean up a section of the River Thames. They collected nine bags of discarded rubbish on the waterfront.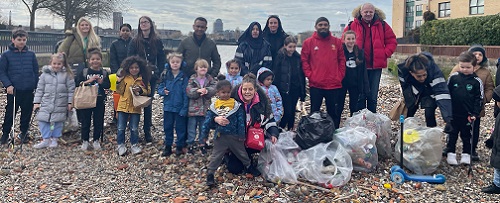 A refreshment break and an egg and spoon race at Sir John McDougall Gardens were followed by a pit stop at Eastferry Asda, where the team met manager Sadiq Miah and launched the community food trolley – where shoppers can donate food items for local people facing hardship.
In total the volunteers have raised over £2,000 – and donations are still coming in. One hundred per cent of this revenue boost will be used for the foodbank – in particular to purchase fresh produce such as fruit, veg and dairy products as well as other items for regular visitors.
Sunu Miah, DCI Head of Operations, commented, "Food poverty in our community is rife, and with rising costs placing so much stress on households we find more and more are turning to small support organisations like ourselves for help.
"I would like to extend my respects and thanks to the amazing young people, our team at the DCI and all our wellwishers. You helped make all this possible."
●●Read more about it:
DCI food bank gets Asda boost
East Londoners had a busy Great Big Green Week