Emdad Rahman
THE NEWHAM LEISURE CENTRE hosted a unique football festival as East London Bus Drivers united to take part in a charity football tournament for the Rohingya people of Myanmar.
A twelve team tournament ended with Leyton Ballers of Leyton Bus Garage beating GDE Specialists from Ash Grove 3-2 in the final. Ashgar Ali from GDE was named man of the tournament.
Abdul Hussain organised the event with the assistance of his fellow volunteers at Team Rohingya in partnership with the charity Human Aid UK. Hussain commented: "It was a fantastic day and I'd like to thank all my friends at Team Rohingya for their fantastic efforts in making this such a successful day."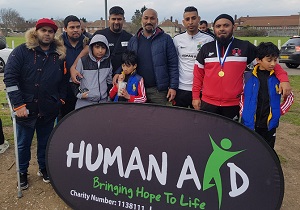 An exhibition game between Human Aid UK and Team Rohingya produced a hugely entertaining 9-9 draw.
Team Rohingya member and Inner London Football League Vice Chair Rashid Ali was in charge of tournament logistics. He added, "The volunteers and the participants have been fantastic today and it's been a really good day in terms of weather, spirit and a fabulous feast of football."
Aminur Rahman from Human Aid UK concluded, "We are all very privileged today and it's a mark of our community that we have had so many people here of such diverse backgrounds all uniting for one common purpose. Our football today will help alleviate the suffering of the Rohingya and even more importantly will raise awareness of the horrors they have faced and continue to do so."
The tournament raised £3,600. There was a special mention for key Team Rohingya volunteer Sunu Miah who was unable to attend due to an operation for a football injury, and also Sami too.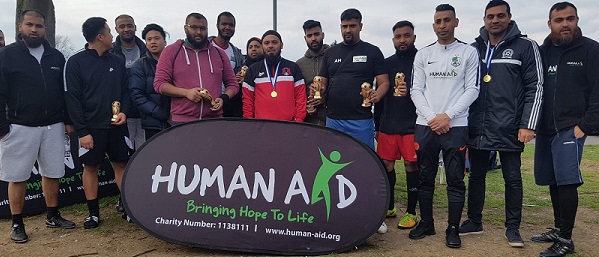 The Rohingya people are a stateless Indo-Aryan-speaking people from Rakhine State, Myanmar, and are widely considered to be the world's most persecuted minority. They are denied citizenship and Myanmar has rendered them stateless even though they have been living there since as early as the 12th century.
There were an estimated one million Rohingya living in Myanmar before the 2016-17 crisis. Faced with unbearable persecution and terror, as many as half a million have fled to neighbouring Bangladesh to seek refuge. Their plight is described as the world's fastest growing refugee crisis.
•For more information about how Human Aid is supporting Rohingya refugees, go to:
www.human-aid.org
•Read more about it:
Rohingya face further crisis as monsoon looms
Play 4 Rohingya set for bus drivers football festival
[Adverts]