A GROUP OF FOUR London pub enthusiasts – Louisa, Rebecca, Danny and Josh – admit that they love and miss their pub. They are also worried that too many of the capital's pubs are struggling to survive during the Lockdown.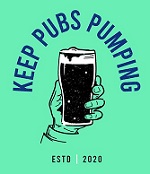 The four have therefore launched #keeppubspumping, an initiative to raise funds to keep their favourite hostelries hanging on until the lockdown is finally ended. Pubs could be the last elements of the leisure industry to open up again, and may have slipped through the safety net and are unable to access government financial support while they are waiting for the new normal.
To raise funds for the pubs, the four drinkers – who all work for marketing company VMLY&R London – have had T-shirts and tote bags designed, which are now being sold on a #keeppubspumping website. Among the pubs that will benefit from the proceeds are three East End locals: The Dove on Broadway Market, The Star of Bethnal Green and The Glory in Haggerston.
●Check them out here:
Keep Pubs Pumping
●Read more about it:
Muslim charities work together to combat Coronavirus
Community Coalition launches Corona-busting meals service