Muhi Mikdad
FOR THE PAST seven years, Ashid Ali, principal of the London Enterprise Academy (LEA), has been organising the many cultural events held at the school. Mr Ali is one of the few British-Bangladeshi headteachers in the UK.
To celebrate 51 years of Bangladeshi independence this week, students gathered to highlight the achievements of this young state. Students gave excellent presentations of the history, culture and economic developments of Bangladesh. Together they sang the national anthem of Bangladesh and a beautiful Nasheed. Students took part in some traditional Bangladeshi dance and play the dhol and table (drums popular in Bangladesh). Students then went on to hear recitals from the Qu'ran.
Chief guest at the celebration was Her Excellency Saida Muna Tasneem, the Bangladesh High Commissioner to the UK. I was the Event Co-ordinator. A week before the event I went with five pupils and the Chair of Governors to invite Her Excellency to come to the event at the school.
Other guests included Tower Hamlets Speaker Cllr Ahbab Hossain; British Bangladesh Chamber of Commerce London Region President Abul Hyat Nurujjaman; Cllr Shah Suhel; Professor Jamal Ahmed; Cllr Ayesha Chowdhury; and Cllr Mohammad Khaled Noor.
Ashad Ali said, "It was a fantastic evening in LEA, showcasing performances from our students and listening to a keynote speech from Saida Muna Tasneem."
He continued, "Pupils learned so much about Bangladesh this evening – from history to economic growth to sports. They felt proud of their heritage."
The High Commissioner said that she was very impressed with the pupils' performances. She thanked the school for arranging the event – and encouraged the students to visit Bangladesh.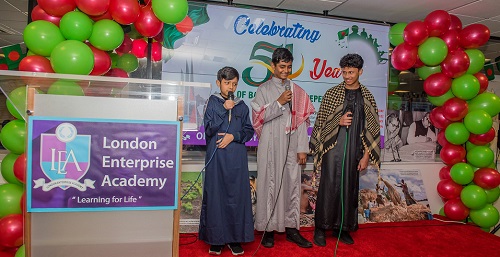 ●Read more stories about the London Enterprise Academy:
London Enterprise Academy
●Watch East London's weekly news magazine programme,
live at 10pm every Tuesday and on demand all week:
The Tuesday Show