Theatre Royal Stratford East: Robin Hood
This Christmas audiences will be transformed to the land of StratEastHam by team at Theatre Royal Stratford East who are staging a new adaption of Robin Hood. The production combines the timeless story with a contemporary and fresh script and original music.
Robin Hood, the prince of thieves, and his band of merry men are on a mission this Christmas! As he robs from the rich and gives to the poor, he's on a quest to save good King Richard and the poor people of StratEastHam by trying to defeat evil Prince John. Who will save the day? Will it be brave and daring Robin Hood? Or will it be the feisty and fearless Maid Marian?
Under the direction of Theatre Royal Stratford East's Artistic Director, Kerry Michael, this magical story is full a whole lot of laughter, energy and surprises along the way.
Theatre Royal Stratford East is proud to be supported by Galliard Homes who are sponsoring Robin Hood.
•Robin Hood will run from Saturday, 5th December 2015 to Saturday, 23rd January 2016. Tickets are from £5 to £27.50, with concessions available on all performances. To book tickets call the Box Office on 020-8534 0310, book in person at Theatre Royal Stratford East, Gerry Raffles Square, London E15 1BN or go to: www.stratfordeast.com
•Captioned and audio performance: Saturday 19 Dec, 7pm
•Signed performance: Saturday 19 Dec, 2pm
•Running time: 2 hours 30mins approx.

Hackney Empire: Jack and the Beanstalk
Last year's panto Mother Goose was seen by a record-breaking over 50,000 people, and the Empire promises that this year's show will be even more fabulous. The Olivier-Award winning Grand Dame of panto Clive Rowe is back and he'll be joined by fellow Olivier nominee, The Bodyguard's Debbie Kurup.
•Jack and the Beanstalk runs until 3rd January 2016 with prices ranging from £10 to £34.50 (plus £1 per ticket online, £1.25 per ticket over the phone).
•For more information, go to:
www.hackneyempire.co.uk/3994/shows/jack-and-the-beanstalk.html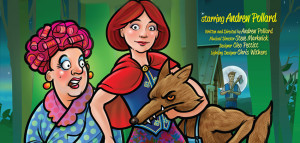 Greenwich Theatre: Red Riding Hood
Andrew Pollard presents his tenth anniversary pantomime at the Greenwich Theatre with a spectacular take on the classic fairy tale. Pollard takes on his dream role as the grandmother beset by a wolf, protected by a woodcutter and loved by Red Riding Hood. Expect stunning special effects, high octane singing and dancing and a side-splitting script as the cast celebrate the festive season in style.
•Red Riding Hood runs till Sunday, 10th January 2016. Adult tickets are £29 or £20 concessions (both include £1 booking fee), with all children's tickets half price. For more information, go to:
www.greenwichtheatre.org.uk
[Adverts]