Emdad Rahman
AT THE grand old age of 82, Brazilian football legend Pelé, arguably the greatest player ever, has passed away. During a prolific 21 year career, he notched up a world record 1,281 goals in 1,363 appearances. 
Pele was three times a World Cup winner – an achievement that may never be equalled, let alone surpassed. It's little wonder Pele was named Fifa's Player of the Century in 2000.
When I was a kid, "The Boys from Brazil" was one of my favourite videos.  I watched it every single day until I had memorised the lines and commentary. I'm sure I wasn't alone in being mesmerised by Pele and the Brazilians.
Edson Arantes do Nascimento was born in the village of Três Corações in the Brazilian state of Minas Gerais. His parents Celeste and João Ramos named him after Thomas Edison, but the name was spelt wrongly. The origin of the nickname Pelé is unknown. It was Waldemar de Brito who spotted the potential of a 15 year old from a poor family. Brito took him to Santos and declared, "This kid will be the best in the world."
The Brazilian icon was the joint-top goalscorer for Brazil, with 77 goals in 92 games. For his club Santos he remains the all-time top goalscorer, with 643 goals in 659 games – and he won the 1962 and 1963 Copa Libertadores, and the 1962 and 1963 Intercontinental Cup.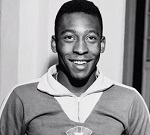 At the age of 17 Pele played for Brazil in the 1958 World Cup finals in Sweden, scoring six goals – the winner in the quarter-final, a hat-trick in the semi-final and two in the final.
Pelé arrived in Chile in 1962 on the back of an exhausting schedule of 426 games, scoring 488. A groin injury flared up in the second game and put paid to further on-field participation. Brazil were inspired by Garrincha and went on to lift a second World Cup.
By Mexico 1970 Pelé was the only remaining member of the original 1958 winning squad. He was a part of the new generation of talented superstars, which included Jairzinho, Carlos Alberto, Rivelino and Tostão.
The boys lifted a third World Cup, and the 1970 team is widely acknowledged as the greatest World Cup XI ever. It was the first to be televised in colour and for the first time the gold shirt mesmerised a worldwide audience.
Pelé personified intelligence in football. He thrived on delivering the exquisite with ease. His pace, ability to rise in the air with timing and being clinically two footed made him easily a cut above the rest and the jewel within a team of priceless gems.
Brazil and the football world now mourn an all-time great: the only footballer to win three World Cups and score one thousand goals.
●Read more stories about football:
Football