WHO ARE these young men? Police want to speak to them in connection with an attack on a 17 year old male in West Ham which took place just before 6pm on Tuesday, 17th April – which left him seriously injured.
The victim and some friends were going home after college when they saw a group of men running towards them. The gang were wearing hoods and one of them was waving a sword. The victim and his friends immediately ran away – and the gang gave chase.
The victim rang into Birch Close, where he slipped and fell over. There was some kind of set to, in which the victim was slashed. The gang then ran off. They were seen getting on a train at Star Lane DLR, but it is not known where they got off the train or where they went.
Witnesses alerted the emergency services to what they saw as a fight. The victim was taken to an East London hospital by the London Ambulance Service, where his wounds needed several stitches. He was then discharged.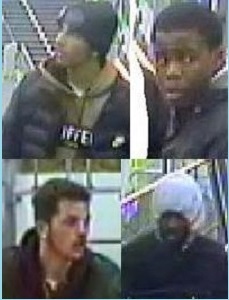 The suspects are described as follows.
•Suspect 1 is described as an Asian man, wearing a black hat, blue padded jacket over a green hooded top, green tracksuit trousers and brown shoes.
•Suspect 2 is described as a black teenager, wearing a black jacket with "Crosshatch" written down the left arm, black trousers and black shoes.
•Suspect 3 is described as a white man, with a short brown beard. He was wearing a green hooded jacket over a dark blue hooded top, blue jeans and white trainers.
•Suspect 4 is described as a black man with a beard. He was wearing a dark blue jacket over a grey hooded top, dark blue trousers and white trainers.
Detective Constable Georgina Hebron, from Newham Borough, said: "This is a nasty unprovoked attack on a teenager who was walking home from college. We are appealing for anyone who may have seen the attack to come forward."
•Anyone who saw the attack or saw the gang on or getting off the DLR or who has any other information is asked to call detectives in Newham via 101, quoting reference CAD 6371/17Apr18.
•Read more about it:
One in court after Hackney acid attack
Mystery Mercedes mows down pedestrian
[Adverts]