Emdad Rahman
The Rural Development Foundation (RDF) Global and The Champions League Newham delivered a football extravaganza to raise awareness of maternity services that the charity is delivering to vulnerable and needy women and families in rural Bangladesh. 
Twenty-four teams entered the draw and took part in a hugely competitive spectacle with free flowing football the order of the day. The tournament included many memorable moments and some sublime pieces of individual showpersonship as the large crowd expressed their approval. Although the football was highly competitive, the spirit was united as all teams recognised the need to support and be ambassadors for a genuine and worthy cause.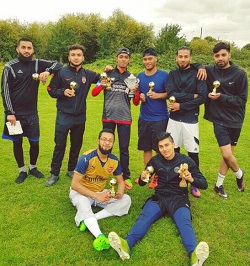 Crystal Palestine beat Mile End All Stars 3-1 in the final to lift the very first RDF Cup. After handing out the winners trophy RDF Global Chair, Alhaj Shamsujjaman Choudhury, said, "We have achieved much with the support and the help of our community but there is still much to do. We can help vulnerable women when they need us the most and ensure that they receive the best care available to them. No woman should have to suffer during their pregnancy and childbirth and I request wellwishers to raise awareness of what we are trying to achieve. We operate in an area which has one of the highest infant mortality rates in Bangladesh."
The mission at RDF is to provide high quality education and life-saving healthcare for women and newborn babies, while maintaining the utmost respect and the highest regard for their dignity irrespective of their background. Through this support it is hoped that the incidence of childbirth related complications and deaths can be reduced.
•For further information go to:
www.rdfglobal.org
•Read more about it:
RDF Global networking trip raises maternity issues
London hosts first ever Shaharpara Cup
[Adverts]