Sir Geoff Hurst talks Sunseeker, World Cup, West Ham
and Dementia at London Boat Show 2018
Emdad Rahman
The 2018 LONDON BOAT SHOW opened to a host of celebrities, global launches, hundreds of stunning boats and historic sporting silverware.
The show celebrates everything you can do and enjoy on the water. Bringing a world of inspiration and free on-the-water experiences, visitors are being treated to five days of the very best the boating world has to offer.
Colin Nell and his team of dazzling football freestylers put on a dazzling show at the opening which had the guests wooing every flick and trick. Nell said, "We have worked hard as a team to get where we are and the Sunseeker yachts are something altogether special. We've put in a good show for our guests today. Being local lads this gives us a lot of pride and is proof that with hard work and dedication all dreams are achievable."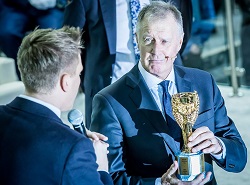 England World Cup legend Sir Geoff Hurst made a special guest appearance alongside the Jules Rimet Trophy, on loan from the FIFA World Football Museum. Sir Geoff was joined by BT Sport personality Jake Humphrey as he officially opened the Sunseeker International stand.
Hurst said, "There are some spectacular boats on display and visitors are being treated to a variety of brand new and exciting attractions. It's been a really good morning and these yachts are pretty breathtaking and the attention to detail and workmanship is simply magnificent."
Since retiring from the insurance business in 2002 and reducing his workload, Hurst is still pretty active and carries out engagements for around three days a week. He said, "I'm really enjoying my retirement and still work 90 to 100 days a year which is a good thing as it keeps me sprightly and in contact with the rest of the world. Obviously with the World Cup coming up in the summer things will start to get very busy very soon."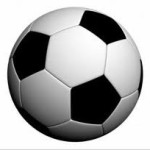 On the domestic football front Hurst feels that West Ham United are in good hands with the new managerial appointment. "David Moyes is a very good manager," he said. "He has been unlucky recently but Everton are a similar stature of club to West Ham and the manager has the added experience of having done very well with the Goodison outfit under very similar circumstances. Moyes needs faith and backing and he will steer the club with a steady hand to the next stage. I believe West Ham United have a very exciting future ahead."
With England focussing on Russia 2018, it would be rude not to ask the only man to score a World Cup final hat trick about the prospects of his countrymen. He said, "We are overdue a good showing at a major international tournament as we have been competitively poor at recent finals. There are slightly less expectations on Gareth Southgate and his team and I feel that this could work out in the team's favour. With a little less pressure the team may surprise a few people out in Russia. As a minimum I would say it's reasonable to expect England to progress past the group stages."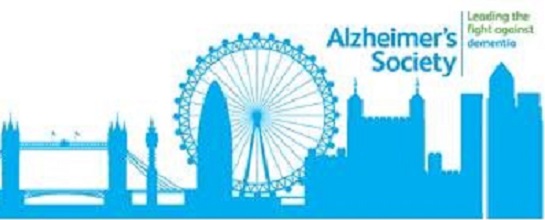 Hurst has witnessed the sad decline of some of his golden 1966 World Cup winning team mates through dementia. He said, "Dementia is arguably Britain's biggest killer. It is an awful affliction and singlehandedly affects not only those suffering but their family, friends and community.
"I don't have any immediate family who live with dementia, but Martin Peters and I are very close. We grew up together, played together, my wife Judith speaks on the phone almost every day with Martin's wife Kathy – and in that sense I have a running commentary of what exactly they are going through. I have it in the back of my mind that he will fail to recognise me and memories of our exploits will begin to fade. It seems evident that this will happen."
Peters played alongside Hurst for West Ham and England and West Ham and suffers from Alzheimer's. In the 1966 World Cup final Hurst scored a hat trick and Peters one goal in a glorious 4-2 win over West Germany at Wembley 52 years ago. The victory is still the single most important moment in English football history.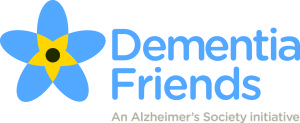 Hurst continues, "We can recover from physical injuries, but when it comes to dementia it's pretty much a one way street. I've helped raise awareness via the Memory Walk in Cheltenham, and I believe Running Down Dementia and Dementia Friends are excellent initiatives by organisations like Alzheimer's Research and the Alzheimer's Society which raise awareness amongst the public through excellent engagement with people."
After Ray Wilson and Nobby Stiles, Martin Peters is the third member of the 1966 team who live with dementia. Hurst said, "Life is all about wonderful memories and with dementia you lose that too. It's a harsh and terrible ailment but we can beat it through raised awareness."
•Read more about it:
Football friendly supports cancer charity
Football Veterans unite to support Rohingya
[Adverts]