WE'VE ALL NOTICED how the number of murders, stabbings and other crimes of violence taking place in Newham seem to be increasing. The police are on the case – and today their ongoing detective work led to six arrests in the borough.
Officers went to seven addresses in the borough in the early hours of Thursday morning (27th January), with warrants. The homes raided were in Frogmorton Road, New Barn Street, Old Barrow Field, Pond Road, Field Point and Bignold Road.
As a result, six young men – aged between 18 and 27 – were arrested on suspicion of conspiracy to supply Class A drugs. They are all being held in custody.
As part of the same operation, the Newham raids were timed with similar action in Essex, where police had four warrants. This resulted in two further arrests on the same charge – one of a man in his 50s and another of a woman.
Police also seized a number of items which they hope to use in evidence against those who have been arrested. These include one bottle of a corrosive liquid, various drugs and a number of weapons, including knives and a pickaxe.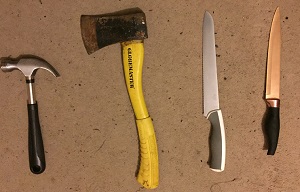 The operation has seen police from the Trident Central Group and the Territorial Support Group work together – assisted by officers from Newham and other boroughs. They have been targeting the supply of Class A drugs using "county lines" whereby dealers in London send youngsters out into towns around the country to supply drugs, usually to local small dealers, and then return to the capital. Over 100 officers were involved in the combined raids yesterday morning.
Chief Superintendent Ade Adelekan, Borough Commander of Newham, said, "The arrests this morning are further evidence of our continuing commitment to reducing the level of violence in the borough and disrupting the associated supply of class A drugs. In response to the concerns of the community, borough officers have worked tirelessly to identify those responsible for the increase in violence in Newham. Our work will not cease until we have rid the streets of Newham from the scourge of gang crime."
Detective Inspector Jim McKee of the Trident Central Gangs Unit, part of the Trident and Area Crime Command, said, "This is the third arrest phase of a proactive operation aimed at reducing the level of gang violence and drug dealing in Newham. Today's operation has been carried out in conjunction with Essex Police and demonstrates Trident's efforts to disrupt gang violence in London as well as associated drugs lines outside the capital."
•Read more about it:
New police appeal as three charged with Newham stabbing
Six arrests in Newham child safeguarding drive
[Adverts]