The media may have you believing otherwise, but there is a story that says that the reason won the bid to host the 2012 Games may well be down to one night at the Zeera Indian and Thai restaurant located in the heart of the .
One night during their visit to , some of the IOC delegates decided they wanted a curry and Lord Coe recommended a takeaway meal from a nearby restaurant. Forty minutes later, six of the IOC team who would decide 's fate, were tucking into lamb bhuna, chicken curry and dhal. Today, I can reveal that the restaurant was Zeera on – and that this £71.50 Indian meal might just have been the reason for our winning ticket!
Zeera's "Ab Fab" launch in July 2002 was hosted by Joanna Lumley and was attended by VIP guests including politicians, community and business leaders and dignitaries. Since then they have been serving up a pukka curry to the delight of their diverse clientele from across and beyond. However, about a year ago, the owner of Zeera decided to go Thai and introduced a new Thai menu at the restaurant. He was so keen to make the food as authentic as possible that he decided to bring in a chef called Karl who is from himself.
When we arrived at Zeera on a sunny Sunday afternoon, we were greeted by the charismatic Mr Shishu who is the restaurant manager and he chatted to us about the history of the restaurant, the area and the menu.
What can you expect from a visit to Zeera? We were lucky enough to have Karl make his speciality dish, Chu Chee Prawns (£12.95), especially for us as we watched him cook up a culinary storm in the kitchen.
The giant prawns are butterflied and then coated in egg and then flour and fried for about five minutes until golden brown. Once they were ready, they were taken out of the oil, left to drain for a few seconds and then transferred to the serving dish. Karl then made the sauce to accompany the prawns. In his pan he combined chu chee red curry sauce, carrots and peppers with coconut milk and Thai herbs. As the wonderful smell of the sauce began to waft into the air, I could feel my taste buds come alive with anticipation.
Once ready, the prawns were deliciously bathed in the creamy, aromatic sauce and garnished to produce a visual and taste sensation which tempted both the eyes as well as the mouth.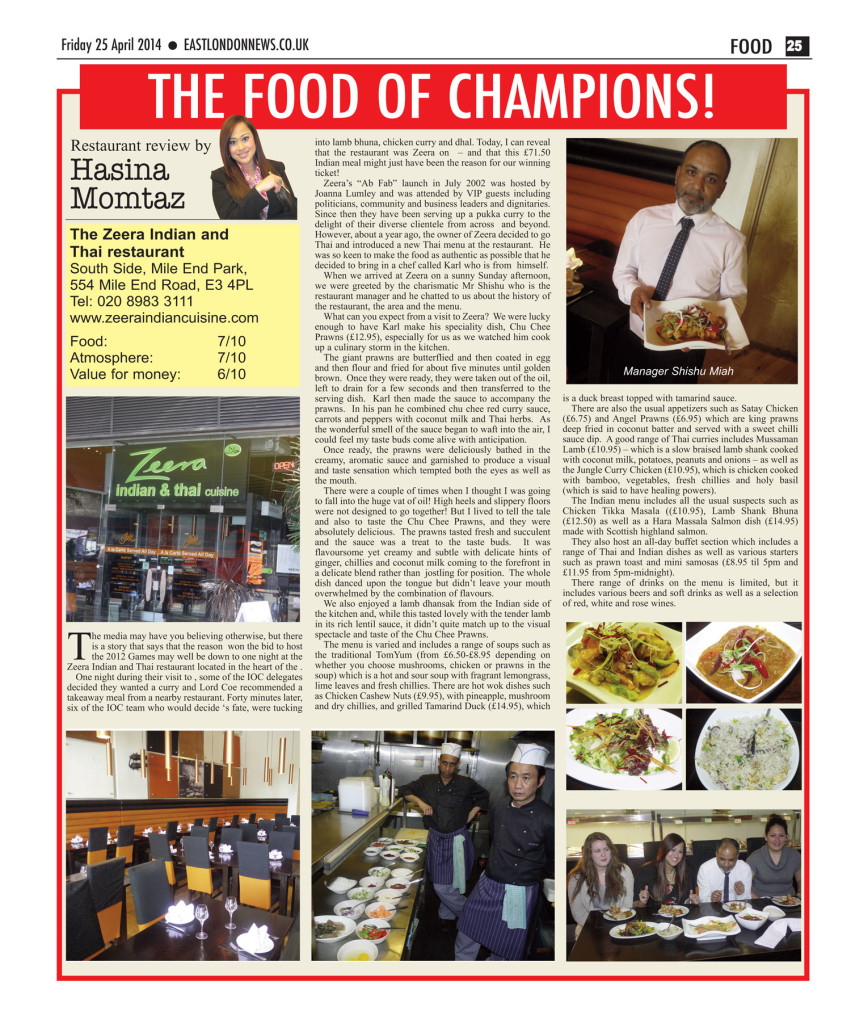 There were a couple of times when I thought I was going to fall into the huge vat of oil! High heels and slippery floors were not designed to go together! But I lived to tell the tale and also to taste the Chu Chee Prawns, and they were absolutely delicious. The prawns tasted fresh and succulent and the sauce was a treat to the taste buds. It was flavoursome yet creamy and subtle with delicate hints of ginger, chillies and coconut milk coming to the forefront in a delicate blend rather than jostling for position. The whole dish danced upon the tongue but didn't leave your mouth overwhelmed by the combination of flavours.
We also enjoyed a lamb dhansak from the Indian side of the kitchen and, while this tasted lovely with the tender lamb in its rich lentil sauce, it didn't quite match up to the visual spectacle and taste of the Chu Chee Prawns.
The menu is varied and includes a range of soups such as the traditional TomYum (from £6.50-£8.95 depending on whether you choose mushrooms, chicken or prawns in the soup) which is a hot and sour soup with fragrant lemongrass, lime leaves and fresh chillies. There are hot wok dishes such as Chicken Cashew Nuts (£9.95), with pineapple, mushroom and dry chillies, and grilled Tamarind Duck (£14.95), which is a duck breast topped with tamarind sauce.
There are also the usual appetizers such as Satay Chicken (£6.75) and Angel Prawns (£6.95) which are king prawns deep fried in coconut batter and served with a sweet chilli sauce dip. A good range of Thai curries includes Mussaman Lamb (£10.95) – which is a slow braised lamb shank cooked with coconut milk, potatoes, peanuts and onions – as well as the Jungle Curry Chicken (£10.95), which is chicken cooked with bamboo, vegetables, fresh chillies and holy basil (which is said to have healing powers).
The Indian menu includes all the usual suspects such as Chicken Tikka Masala ((£10.95), Lamb Shank Bhuna (£12.50) as well as a Hara Massala Salmon dish (£14.95) made with Scottish highland salmon.
They also host an all-day buffet section which includes a range of Thai and Indian dishes as well as various starters such as prawn toast and mini samosas (£8.95 til 5pm and £11.95 from 5pm-midnight).
There range of drinks on the menu is limited, but it includes various beers and soft drinks as well as a selection of red, white and rose wines.
The Zeera Indian and Thai restaurant
South Side, Mile End Park,
554 Mile End Road, E3 4PL
Tel: 020 8983 3111
www.zeeraindiancuisine.com
Food:                                    7/10
Atmosphere:                        7/10
Value for money:             6/10