Emdad Rahman meets the legendary Judoka Brian Jacks.
AS A CHILD Brian Jacks was very sick, and this prevented him from taking part in sports or even running around the playground. At the age of nine doctors discovered he'd been born with a hiatus hernia. It took two operations and round the clock care to make things better. 
Jacks commenced judo training at the age of nine, after watching his dad in competition. Jacks senior was a London taxi driver, who represented the taxi drivers against the Metropolitan Police. At an event the future star watched his father throw a giant police officer down in three seconds. From then on the starry eyed youngster was hooked and started training with his father.
He speaks very fondly of their relationship: "Dad was my first coach. He was my mentor throughout life and he made so many sacrifices which enabled me to become who I am."
At the age of 14 Jacks became the British junior champion, and just before turning 15 he left school without taking any exams. A day before his 15th birthday Jacks flew to Japan alone to study judo. He reminisces: "I was intent on learning at the Kodokan, (judo's) spiritual home. Dad sold the family car to pay for the ticket as I didn't have any sponsorship and very little money. The Japanese students didn't take kindly to the cheeky blonde cockney entering their space. They were all three to six years older than me and they took it in turns to rough me up. They threw me from pillar to post and treated me like a rag doll."
Many nights Jacks wanted to give up and cried himself to sleep. He felt lonely. He missed his family. Something inside him didn't let him quit. He met an American called Bill Backhus, a former US marine who was ten years older than him.
"Streetwise Bill became like a father figure and taught me how to survive in Tokyo and how to make money to get by in life," Jacks explained. "I taught English to Japanese kids – not bad when I couldn't spell to save my life. I also modelled and featured as an extra in movies. I ask sang for my supper in seedy little Japanese bars." Just before his 16th birthday Jacks received his first black belt – the youngest recipient at the time.
In Japan Brian was greatly influenced by the legendary Judoka Kisaburo Watanabe. "He taught me how to beat bigger guys," said Brian.
When Jacks returned to England his father – his coach, friend, mentor and, at times, his tormentor – put him through a rigorous training programme to build up his strength. Tokyo had improved Jacks' judo technique and now he needed to match it with increased strength. This meant putting on a wet suit, under a track suit, and wearing bovver boots to run to Dog Kennel Hill for training. He also had lead weights attached his wrists. (Don't try that at home! –Ed)
The strategy worked, and Jacks was selected for the East Berlin European Junior Championships in 1964. "I won gold, which made me the first Brit to ever win gold in this event. At the same event I also appeared in the senior event and took bronze."
In 1964 judo appeared in the Olympic Games for the first time, and Jacks won the lightweight trial at Crystal Palace. In Tokyo, with the lightweights up first, he became the first Britain ever to appear on an Olympic mat. He lost to the eventual winner, Nakatani from Japan.
In 1967 Jacks completed another British judo first when he became the first Britain to win a medal (bronze) during the World Championships in Salt Lake City. On the domestic and European stage he took part in many events, winning an assortment of medals along the way.
Judo didn't make the Mexico Games in 1968, but Jacks travelled there for a pre-Games event. In 1972 he won an Olympic bronze at the Munich Games. Four years later, in Montreal, his dream of an Olympic gold ended when a controversial refereeing decision sent him packing.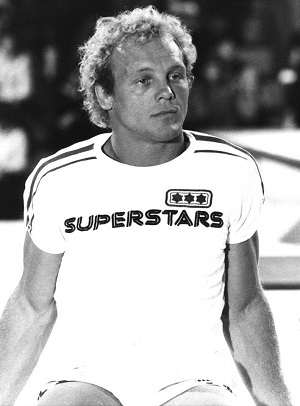 Towards the end of Jacks's judo career, having qualified as a PE teacher and with a good job at Woolwich College, he received a call from the BBC about appearing on cult show Superstars. He said, "I took the call on a Monday and they wanted me to compete in three days times. As much as I wanted to appear, I had to turn it down.
"Throughout my career I trained very hard and with a competition on the horizon I would often train for six hours a day. Later the BBC called again and this time they gave me six weeks to train. I accepted, quit my job, and went for it.
"My dad set up a training programme that meant I had to complete 400 arm dips a day. I said I couldn't do it but Dad said I had to. I did it – not all in one go, but in small spurts. The morning following my first 400 I couldn't get out of bed. Somehow I did and managed another 400. For six weeks I trained five to six hours a day, and it all paid off."
For the next two years Jacks totally dominated Superstars, and the British public took to the chunky blonde bloke with the curly perm, who swiftly became a household name. Superstars opened up a whole new ball game for Jacks and he appeared on all kinds of television programmes – Noel Edmonds's Swap Shop, Celebrity Squares, Blue Peter and Record Breakers with Roy Castle.
In 1981 Jacks became British judo team manager and that same year he took a British team to the World Championships, where Neil Adams won gold – becoming the first Brit to ever win gold in this event.
Jacks now spends a great deal of his time in Thailand, where he can be found on the golf course or sat in his office at his apartment hotel called View Dee. He has 64 rooms which are full most of the year.
Jacks is currently on The One Hundred Day Tour, which started mid August and ends in October. He has been delivering master classes at Judo clubs and giving talks about his life while promoting and selling his book – Brian Jacks – the mindset of a champion.
I ask if Britain can win Judo Gold, and Jacks throws his name into the ring. "I have the experience and knowhow to get involved and make things happen," he says. "But it has to be done the Brian Jacks way or no way. I'm happy to meet and discuss if I get the call."
Brian Jacks – the mindset of a champion, with Marc Gingnell, is available to purchase direct from Brian, by email or on his website.
Email: brianjacks129@gmail.com
Website: www.brianjacks.co.uk
•Read more about it:
Tower Hamlets Judo Club competes at UEL event
Euro-gold is stepping stone for Judo's Olivia
[Adverts]