Emdad Rahman
FOR THE FIRST EVENT of the 2019 season, Tough Mudder headed to North London for five kilometres of awesome obstacles and epic teamwork.
Abdal and I decided to really go wild on Friday night by travelling over to Finsbury Park and taking part in Tough Mudder Urban, otherwise known as the little cousin.
The weekend's venue was Finsbury Park, a few minutes from the station and the Emirates Stadium itself. Finsbury Park Mosque is opposite the station for any runners looking to offer their prayers before or after Tough Mudder.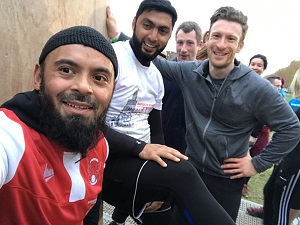 As Tough Mudder itself explains, "The first thing you need to know about Tough Mudder is that the event's foundation is Fun, Teamwork and Personal Accomplishment. There is no timing or 'race' on a Tough Mudder 5k Urban course. Just you, your team and thousands of fellow Mudders working together to overcome some of our highest-rated, teamwork-orientated obstacles. There are no stop watches, no headphone wearing, personal-best beating pressure, just people of all abilities having a go."
We met official Tough Mudder UK trainer Born Barikor for a pre-run chat, followed by pyro flares and a warm up. The atmosphere all round was high intensity, combining the city with Mudder village vibes – an interesting concept when you take in just how diverse Finsbury Park is now. This is an upgraded fun run with innovative obstacles all along the route.
As Tough Mudder explains, "This is no ordinary fun run. Tough Mudder 5K is an experience […] – welcome to a teamwork-focused, obstacle-crammed event […] Kick back with live entertainment, epic games and challenges and a never-ending supply of Mudder Nation camaraderie." Tough Mudder 5K is an opportunity to challenge yourself whilst also making new friends, memories and having the time of your life doing it.
The 5K Urban Run has 13 obstacles to tackle, both on an individual level as well as by the team, so there are plenty moments which require trust and reliance on others.
I thoroughly recommend you take your friends and family to at least one event. Finishing first in our group, the hot streak continued as I broke my personal best at Barking parkrun in the morning. Note to self: I must do this more!
•For more information, go to:
www.toughmudder.co.uk
•Read more about it:
London Enterprise Academy pupils join charity 5k
Fasting 5k returns for Syrian Orphans