Emdad Rahman
The return of the much anticipated Jagannathpur Union Cup saw a number of East London teams compete with their national counterparts for the right to be named annual champions.
Jagannathpur is located in Sunamgonj in Sylhet, Bangladesh, and this is the third year in a row that the members have organised their showpiece annual tournament. The festival is held to bring the community together and also serves as a squad selection camp for the Sonali Othith Greater Sylhet Cup.
In the semi finals Sharpara beat Jagannathpur Poroshova, while Asharkhandi were defeated by Patli – with the victors proceeding to the final with 1-0 wins. Both winners were scored from the spot during normal time.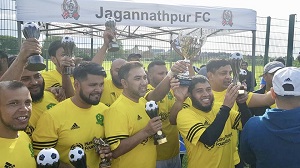 A tight final saw 2017 winners Syedpur Sharpara suffer a shock 1-0 loss to outsiders Patli. Despite the fact that this was "only" a regional trophy, there was a massive turnout of over 300 people.
Chair Bokul Hussain said, "We had another fantastic day and these annual get-togethers are really helping us unite through football. Congratulations to Patli on a great win and thank you everyone for attending."
Right after Captain Fantastic Suhel Miah had lifted the winners' trophy, jubilant Patli Manager Joshim Uddin spoke, saying. "I particularly enjoyed this win because we were such complete underdogs. But we had belief and togetherness and I'm really pleased to say we are the champions!"
Khoyrul Shaheed from the Human Relief Foundation – the Patli team sponsor – concluded, "We are delighted to have been a part of a splendid day out, where we met old friends and made new ones. Human Relief Foundation firmly believe that the best way forward is to get the community involved to help achieve great things. As far as I am concerned, everyone here today is a winner."
Jagannathpur Union Cup 2018
Participants:
Ranigonj
Syedpur Shaharpara
Asharkhandi
Jagannathpur Poroshova
Mirpur
Pailgow
Winners
Patli
•Read more about it:
Ranigonj win inaugural Jagannathpur Union Cup
Human Relief Foundation appeals for support for homeless
[Adverts]