THE MUSLIM PROFESSIONALS FORUM has welcomed the sentence handed out by the Court in New Zealand to Brenton Tarrant – an Australian national and white supremacist dubbed the "Islamophobic terrorist".
Tarrant had burst into the Al Noor Mosque in Christchurch as Friday prayers were being held, shooting at random. He then drove on to the Linwood Mosque, some 5km away, and killed and injured more worshippers. Police believe he had plans to go on to a third Mosque in the area, but fortunately he was stopped before he reached it.
Tarrant had pleaded guilty at a hearing earlier this year to murdering 51 people, attempted murder of 40 more people, and one charge of terrorism. He is the first person to be convicted of terrorism in New Zealand. He was made to sit through four days of victims coming to court to describe the impact his crimes had had on their lives.
Before announcing the sentence, Justice Cameron Mander read out the names of all those Tarrant had killed or injured.  She told him that he had shown no mercy as he carried out inhumane actions. His youngest victim was just three years old.  Mander then sentenced Tarrant to life imprisonment with no chance of parole, the first time this sentence has been handed down by the New Zealand Court.
The Muslim Professionals Forum condemned the hate crime and hopes that the severe sentence will act as a deterrent.  However, there is much work to be done to eradicate Islamophobia and other hate crime. The Forum welcomes the statement from the Muslim Council of Britain, which said, "This is a landmark ruling, but it is not the end. We all have much more to do to stamp out all forms of hate."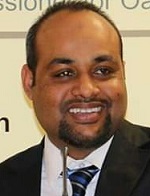 Muslim Professionals Forum Chair, Cllr Khaled Noor, said, "This was an unprecedented sentence – for an unprecedented crime. We are all relieved that justice has been done in this case.  Our hearts go out to the families and friends of the victims. While no sentence could bring the victims back to their loved ones, we hope that this verdict will bring them some comfort."
●Read more about this story:
East Londoners show solidarity with NZ Muslims
●Read more about it:
Al Noor Mosque launches Gascoigne Estate Foodbank
Mosque stabbing suspect appears in court