LABOUR LEADER Jeremy Corbyn led the way for Labour yesterday with a succinct tweet praising both England manager Gareth Southgate and the team's players for their performance in the Football World Cup.
The same excitement came from London Mayor Sadiq Khan, who tweeted his support for the England team – wishing them luck before the game and then congratulating them on their victory. Labour MP for Bethal Green & Bow, Rushanara Ali, re-tweeted his congratulations.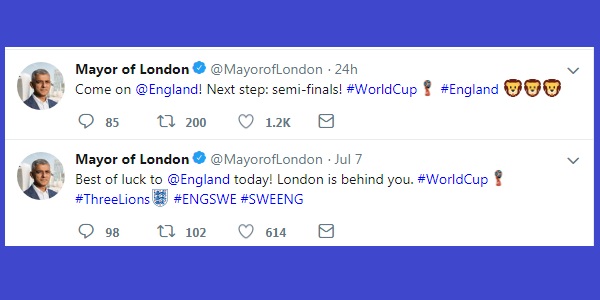 However, football fan Jim Fitzpatrick has obviously been busy with pressing constituency matters – and missed the chance to tweet congratulations to the England team for their quarter-final victory over Sweden on Saturday.
A similar fate has befallen Tower Hamlets Executive Mayor John Biggs, who has also been silent about England's triumphs in the beautiful game. The Executive Mayor referred to the fact that England were playing during his "Ask the Mayor" event last week, so it seems he is following the competition – but there was no mention of the victory over Sweden.
We have asked both Jim and John to give us a comment on the England victory – so watch this space.
•Read more about it:
The Biggs disgrace – pay rise for top councillors
Fitzpatrick rebels: too little, too late