Emdad Rahman
DIEGO ARMANDO MARADONA, widely regarded as the greatest player of all time, has died at the age of 60. The Argentinian football genius, who had brain surgery earlier this month, passed away today from a heart attack.
Following the announcement of the sad news, his homeland declared three days of national mourning.
The crowning moment of Maradona's career was when he led Argentina to World Cup glory at Mexico '86. It was the pinnacle of a glorious career and led him to be named unanimously the Golden Ball winner of the tournament. He had mesmerised opponents, fans and team mates on the way to beating West Germany 3-2 in the final.
It was against the late Sir Bobby Robson's England in the quarter finals where Maradona infamously used his hand to lift the ball over Peter Shilton before going on to score the greatest World Cup goal ever. I saw it, as a ten year old watching it all in black and white – and no other person could provoke such loathing and loving in the space of five single minutes.
Four minutes after the "Hand of God" goal, Hector Enrique laid the ball off to Maradona in his own half. It lit the fuse for a ten second, 60 yard slalom through the heart of the England team, easing past Peter Beardsley, Peter Reid, Terry Butcher (twice) and Terry Fenwick.
All that remained was feinting deftly to leave Peter Shilton on his backside before slotting home. It was pure football sorcery, delivered masterfully by the great Druid of the game. The Arena Azteca simply erupted.
On a domestic level, Maradona shook up Italy as he became the figurehead of a Napoli team which broke the monopoly of Italian giants Milan, Juventus and Internazionale to lifted the Scudetto in 1987, 1990, an Italian Cup in 1987 and the UEFA Cup in 1989. It is no surprise that Napoli will be retiring the famed number 10 shirt forever.
The latter half of his career was mired in controversy involving cocaine addiction and exploitation, but for me El Diego was the greatest player of all time. What he did with Argentina and Napoli and the manner in which he did it may never be achieved again.
Goodbye, Dieguito. You were a magician without comparison. Eternal Gracias!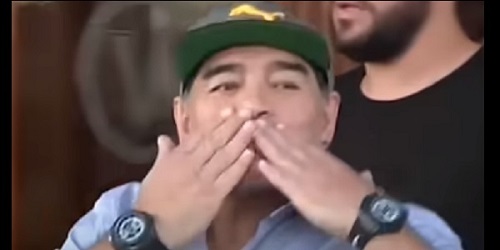 Diego Maradona 1960-2020
"He's going to pass it to Diego, there's Maradona with it, two men on him, Maradona steps on the ball, there goes down the right flank the genius of world football, he leaves the wing and he's going to pass it to Burruchaga… Still Maradona! Genius! Genius! Genius! There, there, there, there, there, there! Goaaaaaaaal! Goaaaaaaal!
"I want to cry, oh holy God, long live football! What a goal! Diegoal! Maradona! It is to cry for, excuse me! Maradona, in a memorable run, in the best play of all times! Cosmic kite, which planet did you come from, to leave so many Englishmen behind, for the country to be a clenched fist crying for Argentina? Argentina 2, England 0! Diegoal, Diegoal, Diego Armando Maradona! Thank you, God, for football, for Maradona, for these tears, for this Argentina 2, England 0."
Víctor Hugo Morales
•Read more about it:
Diego Maradona: an appreciation
•Read more about it:
Chabab Belouizdad fans borrow Tower Bridge for celebration
World Cup winner and football legend Jack Charlton dies aged 85