Emdad Rahman
THE SECOND veterans football tournament to support the Rohingya people of Myanmar saw Docklands FC crowned champions as eight teams took to the field to chase that elusive title.
The football festival was organised by Team Rohingya, in partnership with Human Aid UK and the Inner London Football League.
An entertaining final saw Docklands race into a 3-0 lead – but as the celebrations got underway their opponents Hawk & Eagle pulled two goals back to set up a dramatic final five minutes. Abdul Aziz's men held their nerve to become the second Play 4 Rohingya champions.
The charity event saw almost £1,000 raised, which will provide fresh water for the suffering Rohingya.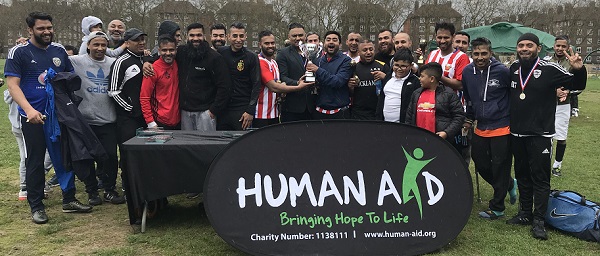 Docklands manager Abdul Aziz commented, "We were just happy to support a hugely important cause. It's a bonus we won and we are dedicating our win to the Rohingya of Myanmar – those living and those lost."
Abul Hussain from Team Rohingya presented the winners' trophy and added, "Our team is committed to raising our voices for the voiceless. We will use the power of football to unite, educate and empower. I'd like to thank our sponsors and volunteers for their tremendous assistance."
Aminur Rahman from Human Aid UK concluded, "A lot of the footballers here today combined volunteering, managing and playing for their teams. No one complained, and the spirit within all eight camps was immense. The Rohingya continue to suffer and their cries for help are largely ignored by the global community. We hope that small efforts like today will bring attention towards their plight."
Stepney Legends star Muktadir Ali, who played for Docklands FC, was named man of the tournament, and magician Shahab Ali won the golden boot with nine outstanding goals.
•Participating teams:
Team Rohingya – Docklands – Shoreditch – Camden Panthers – Hawk & Eagle – Riverside – Golden Moon – Human Aid
•For more information on Human Aid, go to:
https://www.human-aid.org
•Read more about it:
Bangladesh Regeneration Trust launches Rohingya trek
Footballers play 4 Rohingya
[Adverts]