Muhammad Talha
TO CELEBRATE the end of the Muslim holy month of Ramadan and the long weekend, Just Smiles Original teamed up with Inades NGO and the Docklands Community Initiative to organise a soup kitchen and food hub. 
The coalition of grassroots volunteers wanted to do something special and arranged to deliver the programme on the day of Eid. On the menu were tea, coffee, snacks, treats and fruit. There were also 200 hot meals – Jollof Rice and chicken – from Inades. Also on offer were clothes and sleeping bags for the homeless, rough sleepers and people facing hardship. With long queues of visitors building up, the meals and snacks were all distributed swiftly within an hour.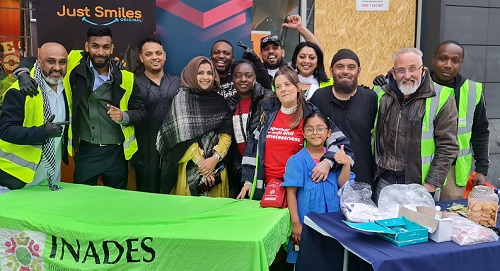 Minara Uddin (Meghna) from Just Smiles Original commented, "We are really privileged to have been able to observe and complete the month of Ramadan and celebrate a beautiful day of Eid with our loved ones. Ramadan and Eid provide us with compassion for others and we felt strongly about doing something nice for others. Our group is so inspiring and diverse and it was a joy working with them to meet our wonderful visitors."
In attendance as volunteers were newly elected Newham Councillor for Stratford Sabia Kamali and Bookbike London team captain Emdad Rahman MBE. The cost of living crisis has seen the number of visitors at these soup kitchens rocket as people struggle to cope with such extreme changes. Groups such as these continue to provide a vital service to those in need. The coalition have bigger plans to continue supporting those in need through pop ups soup kitchens and food hubs.
●Read more about it:
Island Network delivers Christmas cheer to Island community
Humdum join Barings and Thomas Franks in food drive
●Watch East London's weekly news magazine programme,
live at 10pm every Tuesday and on demand all week:
The Tuesday Show