THANKS TO generous donations, the Island Network has been able to continue distributing food packs and hot meals to needy folk on the Isle of Dogs.
The initial round of deliveries was funded by the Canary Wharf Group and One Housing Group. Now a second tranche of funding has been secured – thanks to the generosity of mosques and community organisations on the Isle of Dogs.
The latest round of donors are:
•Westferry Community Mosque (WCO)
•Al Aqsa Mosque Docklands
•Millwall Community Association
•Dawatul Islam Dockands Br
•Poplar & Docklands Muslims Society
•Docklands Community Organisation
Their donations have enabled the Island Network to buy food for 100 packs to ensure that local people have a safety net in these difficult times. Food has been bought from the Nisa shop on the Samuda estate, so the Network has been supporting a local business which employes local people too.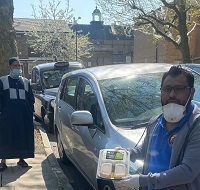 Md Maium Miah, Chair of the Island Network, said, "I am extremely grateful to those organisations for coming out and supporting the community financially in such difficult times – particularly when their own religious and community services are closed and have zero congregation donations, in order to comply with the Government's instructions to protect and save lives. I am grateful that they are mindful of the wellbeing of the whole community.
"I shall continue to work with all partners, organisations and volunteers.  I shall do my utmost to ensure we continue to reach out to the most vulnerable and needy as much as possible."
The Network has a team of volunteers delivering the food. The volunteers include: Abdul Sabur, Abdul Malik, Faruk Miah, Hamza Yusuf, Kashim Uddin, Mafijur Rab, Md Rafiq, Mortuza Miah, Rafique Uddin, Sumon Ahmed, Sunu Miah and Tuha Mustafa.
As the network says: #TogetherWeCan #DefeatCoronaVirus
•Read more about this story:
Community Coalition launches Corona-busting meals service

•Read more about it:
Manorfield launches COVID-19 appeal
Muslim charities work together to combat Coronavirus