Emdad Rahman
DAGENHAM 88 runner Lynne Northcott, aka Jogonhijabi, returned home to complete The Great South Run as part of her preparations for the London Marathon. Northcott is running for the Penny Appeal to raise funds for a fresh water project in The Gambia and was keen on this race because it was a return to her childhood days.
The runner lived in Portsmouth before relocating south aged 18 to pursue her academic studies at the University of East London in 1999. She said, "I was very excited to complete the course which bought back many fond childhood memories."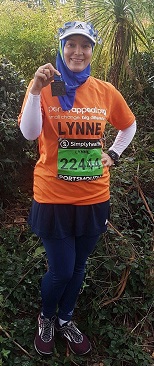 Runners were given exclusive access to the Portsmouth historic dockyards, passing by Nelson's flagship HMS Victory as well as the new HMS Queen Elizabeth aircraft carrier. As a child Northcott would wave off her brother and uncles when they went off to sea in the Royal Navy. She added, "Sunday saw the tail end of Hurricane Brian, and the last 1.5 miles along the Southsea Seafront were particularly difficult as the wind blew off the shore."
In order to keep going, Northcott focussed on the important cause she is supporting. "This run was all part of my fundraising, training and my journey to the London Marathon 2018," she said. "I am aiming to raise £5,000 to build a deep water well in the Gambia, which will supply a whole village with fresh water for drinking, livestock and vegetation.
"Currently it's inhabitants have to walk miles to collect fresh water. Whenever I struggle in a race I just think about them. This was my most favourite race to date because of all the amazing runners and crowd supporting and having fun together on the course. There was plenty of fun banter along the way."
Northcott, who outran a Donald Trump cosplayer at the finish line, cited the presence of her family among a loud, cheering, 25,000-strong crowd lining the streets as vital in her completing the biggest 10 mile race in Europe.
•To donate, go to www.justgiving.com/jogonhijabi
#jogonhijabi
•Read more about it:
Jog on Hijabi on a mission for fresh water
Charity run raises awareness of Gambia water project
[Adverts]