TOWER HAMLETS Executive Mayor John Biggs has taken a break from the big decisions involved in running a London borough and is now advising residents how to organise their food shopping and storage to save themselves money.
The Executive Mayor has signed the borough up to a campaign called "Small Change, Big Difference" – in which the nine participating boroughs will encourage residents to eat more healthily and sustainably, by cutting down on food waste.
The Tower Hamlets campaign kicks off on Saturday, 4th August with an educational event called "Second helpings". This will be held at the Husk Coffee and Creative Space, at 649-653 Commerical Road, E1 7LW. On the face of it, the event sounds rather patronising. Residents will be shown recipes that use leftover food – although there must be an army of mothers in the borough who are very used to using up leftover food rather than throwing it away. Residents will also be shown how to "source food locally that would otherwise go to waste" (is this a new word for "shopping"?) and be given tips on healthy eating.
There is also a free buffet, donated by FoodCycle, and those attending are encouraged to bring a contribution of food – by "foraging" something from their kitchen. Residents are invited to get into the spirit of the event and wear fancy dress – coming as their favourite plant or food. The dressing up is intended to create an "urban Eden".
To take advantage of the free food and educational tips, residents have to register and pay a £10 refundable deposit. Residents may bring their own alcohol to the event, and there is no indication on whether the buffet of waste food will include halal options or cater for any other dietary requirements.
John Biggs welcomed the event, saying, "We are very proud that Tower Hamlets is championing the Small Change, Big Difference campaign. As Londoners throw away almost 910,000 tonnes of food each year, it is vital that campaigns such as these exist. We want to help our residents save money and live more sustainable lives by reducing and recycling food waste and we'll be providing tips showing just how making one small change can make a big difference."
To back up the Mayor's enthusiasm, the Council has issued a list of ten handy tips. These include suggestions such as use canned vegetables, freeze eggs and make use of the Council's food recycling scheme – which serves only a small part of Tower Hamlets.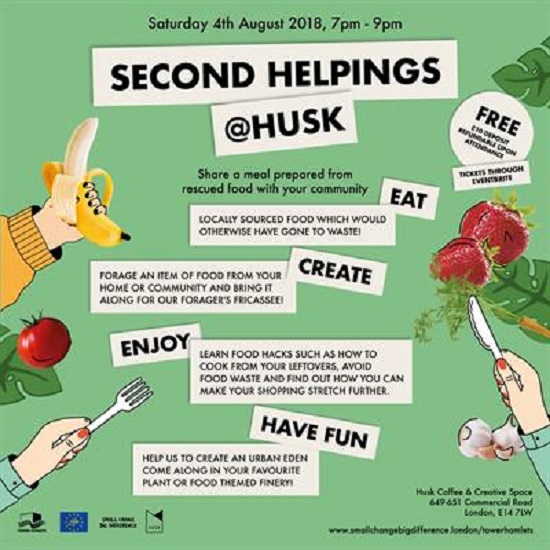 •To attend the "Second Helpings" event, go to:
Second Helpings
•Read more about it:
John Biggs: investing in water, not children!
Nursery campaigners have their cake – and eat it