JONATHAN DIMBLEBY is usually connected with serious political programmes on TV or the radio – but once a year he gets into his tracksuit and walks to raise money for a cancer charity set up in 1966 in memory of his father, Richard Dimbleby.
The 2018 charity walk will take place at night, on 15th June, with walkers going round some of the most famous sites in London. For the first time this year, the charity is offering three different walks: the 12k family walk, the 25k walk and the full 50k walk.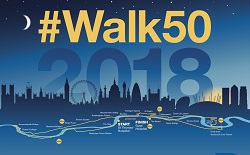 All walkers will set off from St Thomas's hospital at 7pm – heading west. Those undertaking the full 50k walk will come through central London and go through Tower Hamlets to Canary Wharf. They will then head south to the bottom of the Isle of Dogs and will use the foot tunnel under the Thames to reach Greenwich.
It's a memorable outing. Dimbleby Cancer Care Chair Jonathan Dimbleby explained, "Every summer our 50km walking challenge brings people from all over the country to join our night-time walk through London along a route which takes us past many of the capital's most famous landmarks.  Everyone who has taken part in the past seems to love the experience. Whichever distance you go for, I can almost guarantee that you will a lot of fun for a very good cause.  Do join us: you won't forget it."
Walkers will be raising money for Dimbleby Cancer Care, which is based at Guy's Hospital Cancer Centre in Southwark. The centre offers support to people living with cancer, their families and carers. The charity also raises money to fund research.
•Registration for those who want to take part in one of the walks is £25 per person or £150 for a team of ten. Those registering for the Family walk are asked to raise a minimum of £100 per adult or £75 per child. The 25k and 50k walks are only open to those aged 16 or over, who are asked to raise a minimum of £300 each.
•For more information or to sign up, go to:
www.dimblebycancercare.org/events
•Read more about it:
Play 4 Rohingya set for bus drivers football festival
Emdad completes Cycle Down Dementia challenge
[Adverts]