IT IS ALWAYS GOOD to see an Executive Mayor take a first hand interest in their borough – so it was good to see John Biggs spending his Saturday morning out and about with Cllr Ehtasham Haque on the Isle of Dogs.
The two were spotted at the exit to the block of flats in Galbraith Street, E14, in which Cllr Haque is believed to reside and then heading off on a companionable walk along Launch Street, through the residential St John's estate.
Quite how the two squared their morning constitutional with the requirements of the current lockdown is not yet clear.  The rules of the lockdown state:
"You must stay at home. The single and most important action we can all take is to stay at home to protect the NHS and save lives.
You should follow this guidance immediately.  This is the law.
Leaving home
You must not leave, or be outside of, your home except where necessary.
You may leave the home to:
•shop for basic necessities, for you or a vulnerable person
•go to work, or provide voluntary or charitable services, if you cannot reasonably do so from home
•exercise with your household (or support bubble) or one other person (in which case you should stay 2m apart).  […] "If you do leave home for a permitted reason, you should always stay in your local area – unless it is necessary to go further, for example to go to work."
https://www.gov.uk/guidance/national-lockdown-stay-at-home
Observers noticed that the pair were not wearing masks and that they were not maintaining a social distance: behaviour which is normally only allowed by people who live in the same household or who have formed a support bubble.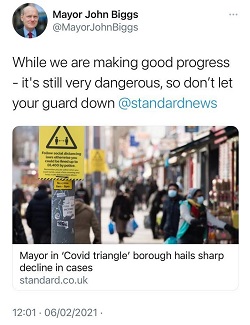 Of course Executive Mayor John Biggs is well aware that we must all follow the lockdown laws. On the same day as he took his walk with Cllr Haque, John Biggs tweeted that people should not let their guard down (see right).
However, it is important that elected public representatives are accountable to those who elected them – even if they have already tweeted evidence of their intention to uphold the law. Those who saw the pair together may well be wondering on what basis their walk, and mask-less proximity, can be justified.  We have therefore asked them – and we shall let you know their response.
●Read more about the Biggs Administration:
Executive Mayor John Biggs