TODAY:  the Muslim Professionals Forum (MPF) will this afternoon hold a Facebook Live meeting which will explore the relationship between Islamophobia and the Government's "Prevent" agenda – the strategy by which it plans to combat acts of violence and terrorism resulting from extremist ideology in the UK.
The speaker at the meeting is Dr Sariya Cheruvallil-Contractor, Asst Prof. at the Centre for Trust, Peace & Social Relations at Coventry University. Dr Cheruvallil- Contractor is one of four academics who collaborated on the Arts and Humanities Research Centre (AHRC) project Re/presenting Islam on Campus.
Dr Cheruvallil-Contractor explained her approach to studying Islamophobia, "As a sociologist specialising in the study of lived religion, I believe it is imperative to examine the issues and problems that underpin the disconnections within our societies. But I believe it is probably even more important to uncover what communities and individuals are already doing to find shared space, common values and practical solutions."
The meeting will be chaired by Cllr Khaled Noor, who is a councillor in Redbridge and also Chair of the MPF.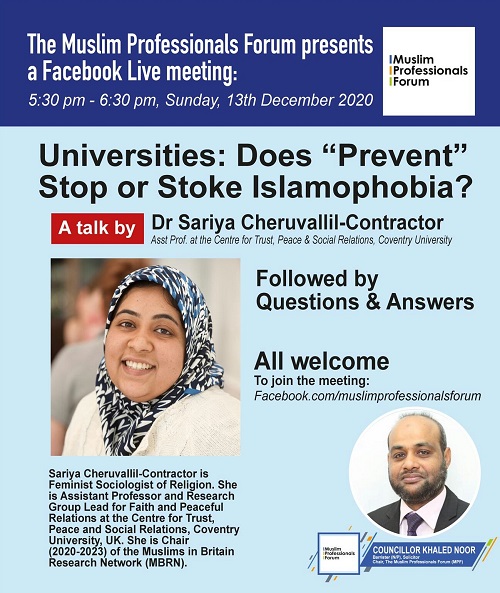 ●Join the meeting:
The meeting starts at 5.30pm on Sunday, 13th December and will be streamed lived on the MPF Facebook page, where it can also be viewed after the live broadcast. Go to:
www.facebook.com/
●Read more about it:
Christchurch Mosque Massacre – justice done
Murder charge after mosque shooting in Norway