Emdad Rahman
EIGHT TEAMS took to the field at Southbury Leisure Centre in a bid to be crowned champions of the Nahid Cup.
This is the second time the memorial has been played. It began last year to commemorate the tragic death of 26 year old Nahid Ahmed and to highlight the destructive effects of knife crime on communities.
In September 2020 Nahid was stabbed to death by Abdi Ibrahim Osman, outside a block of flats in Enfield. At the Old Bailey Osman pleaded guilty to murder and received a life sentence with a minimum of 23 years.
Nahid's family have relentlessly campaigned to stamp out knife crime, and the annual football festival is now an important platform to spread the message, raise awareness and educate people on how far-reaching the effects of knife crime are on communities.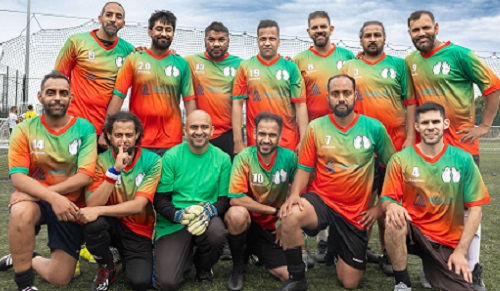 Team Nahid, managed by Nahid's uncle Monwar Hussain, reached the final for the second year – before losing 2-0 to Peaky Blinders in the tournament decider. The event raised over £1,000 for charity.
Nahid's mother Rushanara said, "I am grateful for all the love and support that we have received from everyone. Knife crime continues to be an epidemic in this country and has torn families and communities apart. We will continue to raise awareness in Nahid's memory and spread the universal message of peace and love. Thank you to all the footballers, sponsors and supporters for the incredible support and well done to all teams taking part today."
●●Read more about it:
Football Tournament for Nahid calls for peace
Labour complacent as Aspire raise knife crime emergency