IT'S GOING TO BE a long weekend for the Island Network as they cover the Island, taking food parcels to the elderly, the disabled and other families in need.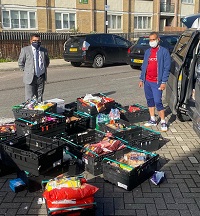 The Mega-Distribution is being run in partnership with Spot project, which is sponsoring the parcels this week. The Spot project has been involved in food parcel delivery all over London.
These food packs will concentrate on providing the staples. they will contain rice, pasta, spaghetti, sardines, tuna, eggs, oats, oil, chickpeas, noodles, long life milk and toilet rolls.
As well as calling on vulnerable residents, the Island Network will also be taking food packs to all primary schools on the Island so that the schools can ensure needy children are supported.  Schools are due to re-open for all of their children on 8th March. As someone once said, you can't teach a child who's got an empty tummy, so the food resources are doubly helpful.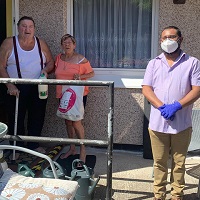 When they finally rest their weary feet at the end of the Mega-Distribution, Island Network volunteers will have delivered 33,000 food parcels to local residents in need. The Network has also thanked One Housing Group, which has let the Network use an empty local community centre to package up the food parcels and act as a distribution hub.
●If you, or anyone you know on the Island, would benefit from a package please call Maium Talukdar on 07983-798 791 or email the Network at:
Islandnetwork1@gmail.com
●For more information about the Island Network and to volunteer to help, go to:
Island Network
●Read more stories about the Island Network:
Island Network
●Watch East London's weekly news magazine programme,
live at 10pm every Tuesday and on demand all week:
The Tuesday Show