South London's Borough Market may seem a long way to go for a bowl of soup, but it's easier to get there than you may think. You can get to London Bridge Tube Station via the Jubilee Line (from Canary Wharf or Stratford) or take the DLR or Central Line to Bank and change to the southbound Northern Line. Come out into the open and you are faced with an exciting food market, full of choices which reflect London's diversity. Borough Market has been going for over 1,000 years, so it must be doing something right!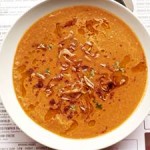 Once you've made your way round the market, your journey plus the tempting aromas from around the world replicated in south London's tiny streets will be making you feel very hungry. Throughout January, the place to take your hunger is the Arabica Bar & Kitchen at 3 Rochester Walk, SE1 9AF. For the rest of this month, the Arabica will be serving a spiced red lentil soup and donating £3 per bowl sold to the Soup for Syria initiative. The healthy yet hearty dish, developed by founder James Walters and his team, features key Levantine ingredients sold within his Arabica Food & Spice range, including ras el hanout, pomegranate molasses and sumac, adding an indulgent sophistication and general yumminess to the dish.
James Walters explained why Arabica is backing the initiative: "January is a tough month for everybody. Most of us have limited funds for eating out and everyone will be watching their waistlines. This soup ticks all the boxes. At £5 a bowl it's not expensive, it's good for you, it tastes great and it'll leave you feeling warm inside both due to the spices used and charitable donation given.
"Being a Levantine inspired restaurant we don't feel that we can simply sit back and ignore the crisis in Syria. The conflict is now in its fifth year and is one of the worst humanitarian crises of our time. We have decided to team up with Soup for Syria, meaning all profits go straight to the UN Refugee Agency UNHCR to provide urgently needed food relief for Syrian refugees in the Levant."
The Arabica Bar & Kitchen will also be selling copies of the Soup for Syria cookbook, featuring recipes from Yotam Ottolenghi, Sami Tamimi, Anthony Bourdain, Mark Bittman and many more, with all proceeds going to the initiative.
The Arabica has many other tasty Middle Eastern options for those wanting to add to their soup: these include many vegetarian choices, which is handy for some visitors as the meat dishes are not halal. The restaurant is all on one level, with only one small step up at the entrance. Unfortunately, there are no specially converted disabled toilets.
For more information, go to:
www.arabicabarandkitchen.com
[Adverts]