Emdad Rahman
Team Legend played in The Peoples FA Cup on Saturday at The Norwegian Playing Fields at Power League Newham. To be honest, we turned up to have a bit of fun and do our bit to promote and support grassroots football. All our team are aged 38-42. Most have grey, receding hairlines and expanding paunches. The game plan for the day was simple: prevent a complete whitewash and keep the number of goals we conceded at a respectable level.
Our tactics became even more urgent after we were told that it was an open age group from 16 years upwards. It turned out that we were almost 20 years older than the teams playing. We sized up our opponents: leaner, meaner, fitter, faster, full colour kits. We watched the early exchanges to make mental notes on our opponents. They looked good and we formulated our plans: play it tight, watch the runners and stifle the playmaker. It worked to a tee and after a 2-2 draw we went on to record win after win to reach the last four.
The boys played like warrior poets. The level of skill, determination and guts we displayed blew our opponents away. Don't forget Team Legend had plenty of guile and know how and we used this to great effect; drawing teams in, hitting on the counter and sometimes simply bamboozling them with dinks, feints and drop of the shoulders. Then there were the surprising bursts of pace and swashbuckling goals.
We had turned into a cavalier team with guts of fire. It wasn't Total Football, nor samba, but we were pretty good nevertheless. When we were not playing we kept busy watching cardiac arrest at Carrow Road as Liverpool edged Norwich in a five goal thriller. United losing to a Charlie Austin winner at home to Southampton was the icing on the cake.
In the end it was not to be Wimbledon 88, but we definitely manifested the battling qualities of those boys from Plough Lane. A 1-0 semi final defeat by an own goal against the eventual winners was nothing to be ashamed about, and we left with our heads held high. It was lovely to be lauded, clapped, high fived by our youthful opponents. The referees came over for a chat and even officials from within the Power League complex. We were the talk of the town and we were simply loving it. Every bit of courtesy was lapped up. Kudos to the FA for this great scheme. It was a great day out we had lots of fun and made many new friends.
The next day I had a very sore lower back and couldn't move now being poleaxed, but I have ticked another box on my vast life bucket list by playing and scoring. It was all the more memorable that I was there with my friends.
The Peoples FA Cup – it's a football fairytale. Roll on 2017. #PeoplesCup!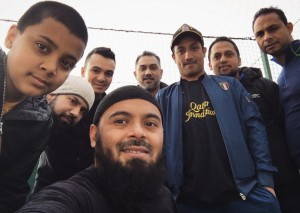 Team legend: Mohsin, Hamid, Abu, Soleman, Khaled, Aktar, Emdad.
[Adverts]