Md Talha
IN PREPARATION for Sunday's UK District Cup 2017 both Sylhet District teams took part in warm up friendlies after launching a smart new black kit. The teams were led through their paces by head coaches Mamun Chowdhury MBE and Emdad Rahman MBE alongside assistant coaches Rashid Ali and Abdul Khaher. 
Sylhet District captain Dawlath Khan Babul said, "We hope to continue inspiring younger generations through our legacy. Congratulations to all over 50s playing on Friday. You certainly are a minority."
Repon Chowdhury is again the Sylhet over 40s captain. He added, "This is a great concept and thanks to this tournament the careers of people who love football have been extended."
Also in attendance at the launch were Secretary Sorwar Alam and Treasurer Khairul Alam.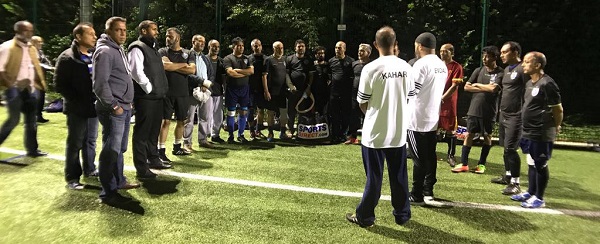 •The Sylhet District Cup for over 40s & over 50s takes place:
at 10am
on Sunday 10th September 2017
at Stepney Astroturf, Redmans Road, London E1 3DB
•Read more about it:
London hosts first ever Greater Shaharpara Cup
RDF Global football backs maternity project
[Adverts]