JUST SIX months after it opened its doors to diners from far and wide, the Tapas restaurant in Bushmead, Luton, has been shortlisted for the best restaurant and the best newcomer categories in the British Curry Awards.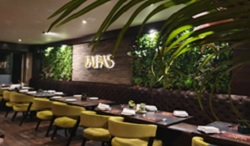 The restaurant is the brainchild of Abu Nasir, who is known for his involvement in the football industry – with the FA, Liverpool FC, the Premier League and grassroots footballers Luton Sporting Club.  Nasir explained that he was "growing frustrated with the lack of choice, quality food and service in town" and decided, despite the uncertainty which the pandemic had brought to the hospitality industry, to remedy the situation himself.
Nasir worked with his friend Khaled Ahmed, who has been awarded the soubriquet "King of Curry Sauces" in Luton and has over 30 years' experience in the curry industry. The result was a restaurant which offers much more than traditional Spanish tapas, with a fine dining menu based on tapas, mezze and food from the Indian subcontinent.  The emphasis is on high quality service and fresh food.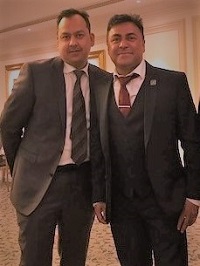 "Tapas provides an exquisite dining experience for all our guests, offering an outstanding combination of both traditional and contemporary authentic Indian food and tapas," Nasir explained. "Our distinctive menu consists of curries and small plates, along with a vast variety of grill and mezze which has been crafted by our team, who have spent years perfecting the art of culinary skills and recipes. Each dish is exclusive and unique in its flavouring and is made with fresh local ingredients and produce. Our produce including vegetable, meat fish and poultry are ordered and cooked daily including all sauces which are uniquely made for each individual dish, so no dish tastes the same."
There are 12,000 Indian restaurants in the UK, but already Tapas has established a loyal clientele – whose nominations secured the eaterie the coveted nominations. It has been a huge investment for its owners, who bought a property which they then refurbished and kitted out with state of the art equipment. Despite the need to recoup their outlay from paying customers, the restaurant has still found time to fund and support a range of charities, including the Human Relief Foundation and Luton Foodbank.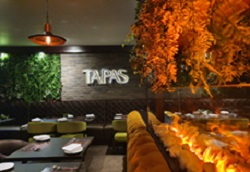 Where does Tapas go from here? "We are a destination venue for fine and affordable dining and our customers have been coming from all over the country including London, Liverpool, Birmingham and Bradford," said Abu Nasir. "We feel we have achieved a lot during a short space of time which has led other restaurants to observe and try to follow our example. We are trying to change the landscape of the curry industry in a positive way."
The winners of the British Curry Awards will be announced at a star-studded event at the Battersea Evolution on 29th November which is due to be attended by celebrities from the worlds of showbusiness and sport, as well as by politicians – including the Prime Minister.
●Read more about it:
After 10 years: British curry rules!
Channel S's Mohammed Jubair wins award for curry coverage
●Watch East London's weekly news magazine programme,
live at 10pm every Tuesday and on demand all week:
The Tuesday Show