Muhammad Hamza
BRILLIANT TEAM BANGLADESH have overcome the odds to create history and become the first ever winners of the Inner City 7-a-side World Cup organised by the Inner London Football League.
Emdad Rahman's squad – who were all assembled from within the vicinity of Tower Hamlets, Camden, Newham and Barking & Dagenham – were drawn in the group of death alongside favourites Brazil, second favourites Colombia and a formidable Jamaica side.
The first game against Colombia saw an assured display result in a convincing 2-1 win, with a penalty from Vice Captain Abdal Ahmed and a solo finish from Jewel Haque resulting in a hugely morale boosting start.
It was the lift Team Bangladesh needed, and it led to a resounding 4-0 second game thrashing of Jamaica, courtesy of Ash Rahman, Tafazzul Ali, Abdul Wahid and Abul Hussain.
With both Brazil and England through to the semis, both teams played under less pressure in their deciding game, with Rahman, Nashir and Yusuf opting to look at different formations. Brazil took the lead, but two stunning efforts from Abdul Wadud saw Team Bangladesh through to face newly installed favourites England.
The game of the tournament saw Bangladesh run out blistering 5-3 winners in a thrilling semi-final, with Atiqul Islam, team captain Abdul Hanif, Tafazzul Ali, Hassan Abdullah and Ash Rahman making the difference against a brilliant England side.
It was left for one last push, as Bangladesh met their old friends Brazil – who had earlier beaten Morocco in an entertaining semi final shoot out – in the final. A tense but energetic finale saw a well organised Brazil equalising Ash Rahman's opener. There were no more goals, and it was onto penalties.
Team Bangladesh keeper Russ Rahman pulled off two stupendous saves and following on from his exploits in the Sylhet Upazila Cup in 2018 it was Jewel Haque who once again scored the decisive penalty to send the players and supporters into raptures as Bangladesh were crowned World Cup winners.
Inner London Football League chair Koys Miah commented, "We organised this tournament to bring our communities together. It's our very first attempt and we have been surprised at just what a magnificent spectacle today has been as we have celebrated the best of Britain and its communities. Football has united us today."
After handing out the runners up's and winner's trophy, Vice Chair Rashid added, "This tournament can only go from strength to strength. A massive thank you our sponsors, Avenue Construction, and huge congratulations to Emdad Rahman and his superb team for their fantastic win. The team were simply immense from the very first game – and against some of the most outstanding teams from our community."
Bangladesh head coach Emdad Rahman MBE concluded, "Despite being in the group of death not once did I ever doubt the boys could achieve this. What was key today was the attitude of the players, the genuine camaraderie, respect for themselves and opponents, hunger and undoubted ability. Each man played his part to a tee, and I don't think a team has ever made so many rotations as we accomplished the distinction of giving game time to each member of our 16-man squad in every game.
"As the squad came together on the pitch they created the perfect storm. We were devastating going forward, we were devastating at the back! Well done to our team – we have created a legacy here today which will be celebrated for years to come.
"I'd like to say huge thanks to ILFL for their faith in appointing me as head coach and my coaching team of Muhammed Nashir and Hamid Yusuf for their amazing input and management at all times. They along with the players are the real heroes today– it has been an honour being their figurehead and I tip my hat to them."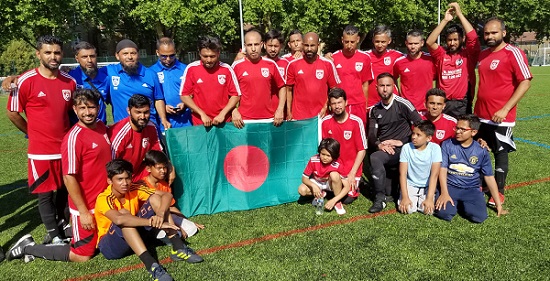 Bangladesh: ILFL World Cup winners 2018
Coaching team
Emdad Rahman MBE
Muhammed Nashir
Abdul Hamid Yusuf
Players
Russell Rahman
Abdul Hanif
Shuhel Ullah
Abdal Ahmed
Jewel Haque
Tafazzul Ali
Khalid Ahmed
Abdul Wahid
Abdul Wadud
Hassan Abdullah
Arshadur Rahman
Abdul Salam
Atiqul Islam
Abul Hussain
Jallal Miah
Forhad M Shah
Player of the tournament
Abdal Ahmed
•Read more about it:
Rahman named Bangladesh boss ahead of inner city World Cup
Underdogs Patli lift 2018 Union Cup