Emdad Rahman
Local Tower Hamlets boy Siddikuzzaman Munna (Saddik), 17, who was born in London and has Bangladeshi parents, has fulfilled a life time dream and signed for a professional football club.
He signed a one year contract for a Bangladesh Premier Division team based in the capital Dhaka: Sheikh Jamal FC of Dhanmondi. They are currently third in the league and have players from all over the world. Sheikh Jamal are dubbed the Manchester City of the Bangladesh League.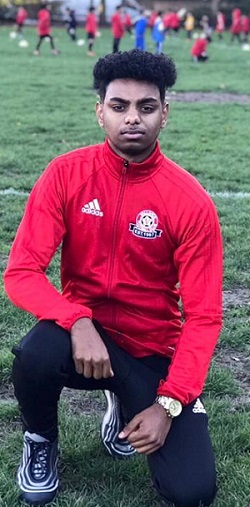 Saddik has also met with the current Bangladesh national U19 team manager who has selected him for coming games.
Saddik attended the Bethnal Green Academy and played his entire junior and youth team football for Vallance Football Club. They are based in Bethnal Green and have teams from U8 to senior level playing in leagues all over London. To date they are the only FA Charter Standard Development Club in Tower Hamlets. Saddik joined them as an 11 year old and eventually made his debut for the senior team aged just 16.
The Vallance football development officer Mohammad Iqbal Hussain said "We are happy for Saddik. We always knew he was a special talent. He first coach said he was naturally gifted and played a year up from the day he joined. While with us he got to play at the ground of his boyhood club, Arsenal FC, in a tournament for the U14 which they won and he was Player of the Tournament.
"A special mention must go to his parents, who were always supportive of him and always wanted him to follow his dream. We at Vallance FC wish him all the best and hopefully more local boys will follow him into the professional game."
Saddik has paid tribute to his local team and said, "I am grateful to Vallance FC from my first coach Ruhul Islam; my first team manager Hamidul Islam, who managed me from U11 to U16; and Junel Uddin, who gave me my senior team debut at 16 in the East London Barking & Dagenham Sunday Football League. They all had faith in me and told me to push my dream but also enjoy the game of football. I will always come back to help them when I'm back in London."
•Read more about it:
Shadwell beat Ace in thriller to lift Mayor's Cup 2018
Balinga FC win HRF Rohingya Cup