Emdad Rahman
ABU NASIR WILL BE joining the Liverpool Football Club (LFC) family in Boston this evening to talk about his journey in football – from Liverpool FC to football business, Video Assistant Referees (VAR), and tackling racism.
Abu has been involved in football and sports since the age of seven – as a player, coach, and sports business executive at both grassroots and professional level. His board and advisory level experience includes: non-executive, associate director, ambassador, committee and trustee roles for a number of organisations including the FA, FIFA, Kick it Out, Liverpool FC, Sporting Equals, Muslim Sports Council and a number of private sector businesses, charities and voluntary groups.
Abu was recently appointed onto the FA National Game Board, which is responsible for football in England. He is currently among the candidates being considered for the position of Chair of the FA.
Abu is looking forward to meeting fellow Reds around the world: it's going to be an exciting show!
LFC Boston Virtual Speaker Series
with Abu Nasir, Football Executive and candidate for FA Chair
7pm, Saturday, 13th February 2021
Register for FREE HERE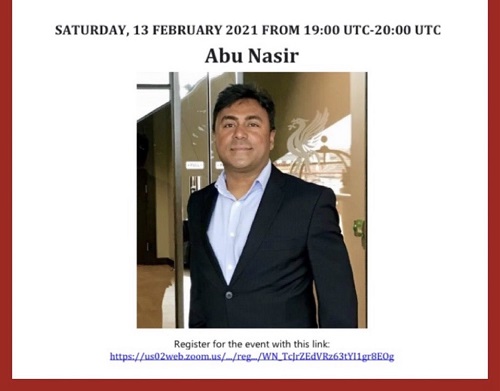 ●Read more about it:
Liverpool FC legends relive glory of Istanbul
Liverpool FC legends woo Luton