THROUGHOUT the pandemic – as people fell ill, as the community rallied round to help those in need, and as we sheltered in lockdown – Mosques across East London have been at the heart of community support.
Mosques, like the holy buildings of other faith groups, have not been open for prayer and worship for most of the last year, and this has reduced their opportunities to collect regular donations from their congregations. At the same time, that outreach work, sustaining the community physically as well as spiritually, has drained the coffers.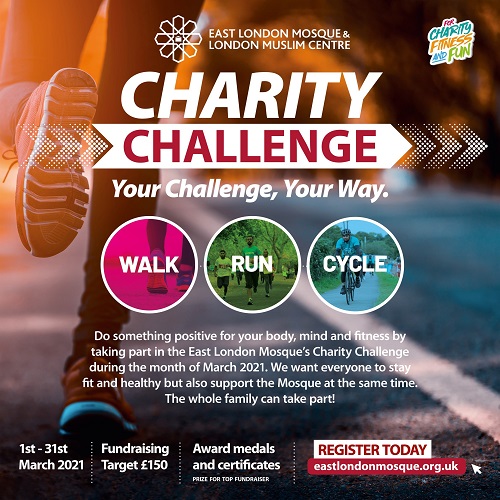 The East London Mosque has responded to its financial needs by issuing the "Virtual Charity Challenge for March 2021" – a plea to its congregation to raise money for the Mosque. The additional advantage of the challenge is that participants are asked to raise funds by obtaining sponsorship for a physical activity which they can undertake in the month of March. In this way, they are not only doing their bit for the Mosque but are also keeping themselves fit and improving their health.
The Mosque also suggests that everyone find a challenge the whole family can be part of – so there's a way to change up your activities at home as we wait for lockdown to be eased away.  Can you raise £150 for the Mosque? And who will be the top fundraiser in Tower Hamlets?
●For more information about the East London Mosque Charity Challenge, go to:
Charity Challenge
●Read more stories about the East London Mosque:
East London Mosque
●Watch East London's weekly news magazine programme,
live at 10pm every Tuesday and on demand all week:
The Tuesday Show