A KNOCK AT the front door always makes you nervous during the Coronavirus Lockdown. Who on earth is coming round at a time like this?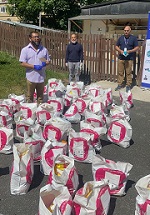 But it was worth opening the door on the Isle of Dogs on Wednesday, 20th May – because it was another food pack distribution day for volunteers from the Island Network.
The day's group of volunteers distributed over 150 mega food packs to needy residents on the island. The packs included porridge, crackers, muri (dried rice), milk, chick peas, coffee, sugar, sardines, squash, rice, biscuits, pasta and bananas.
"I am proud to say that, including today, since 21st February we have distributed over 1,730 meals and food packs to local elderly and vulnerable residents, including those in care homes, and to the NHS and local schools," said Island Network Chair Maium Miah.
"I am also so proud we as a team are making the difference in the community. We are at least making people smile in this COVID-19 crisis! Once again, a massive thanks to our volunteers and to One Housing Group for funding  us for the last 14 weeks.
"I would also like to thanks all our Island Network partners: Canary Wharf Group, Nisa Local, Docklands Halal Grocery and Rakesh Patel from Cyclops Mews. We are also grateful to local landlords for supporting our COVID-19 work. Without such widespread support, it would have been impossible to distribute to vulnerable residents."
Maium Miah also thanked Yasin Ahmed, Rohul Miah from One Housing Group and Mr Rakesh Patel, who all joined the volunteer distributors to hand out the food packs.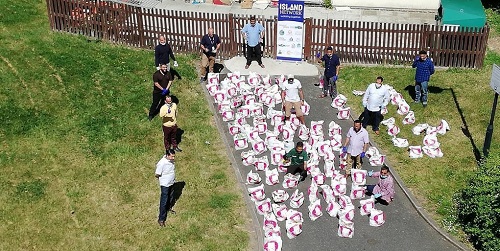 ●If you would like a hot meal delivered or to help the Coalition, please contact Maium Miah Talukdar, Island Network Chair:
tel: 07983-798 791
email: Mdmaium@gmail.com
●Read more about this story:
Island Network continues food deliveries
Community Coalition launches Corona-busting meals service