Emdad Rahman
The Bangladeshi community in Britain was proud to hear that British teenagers Saqlain Chowdhury and his friend Sadik have both been offered the opportunity to play in the Bangladesh Premier League.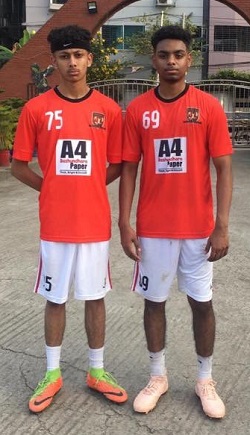 The two teenage prodigies have been signed up by Dhaka-based Sheikh Jamal FC of Dhanmondi and have signed professional contracts to play top flight football.
Saqlain is the son of renowned UK football coach Pervez Chowdhury (PB) and was personally trained by his father and football personalities Harry Khan and Shamim Hussain.
Seventeen year old Saqlain from Stepney is a student of the West Ham Academy. He had taken a break to travel to Bangladesh and after successfully passing a rigorous trial programme has the blessing of the Academy to pursue his dreams. Both Saqlain and Sadik will continue to study while plying their trade with the elite in the Bangladesh Premier Division.
The youngsters will return to the UK shortly to say goodbye to family and friends before returning to what promises to be an adventure of a lifetime. Their new team play at the Bangabandhu national Stadium.
Saqlain said, "Sadik and I are so excited and will work so hard to make the best of this opportunity. I would like to thank my father, West Ham Academy, Harry Khan and Shamim Hussain along with everyone else for the love, support and influence they have had on my career."
His father Pervez Chowdhury, better known as PB to the footballing world, was emotional yet full of joy for his son's achievement. The former Sylhet FC and Bishwanath manager added, "It is the first time Sheikh Jamal FC have signed British Bangladeshi players and this will now hopefully offer a pathway for British Bangladeshis to play football at the highest level. This is proof that hard work and dedication will open windows of opportunity and the potential to do something extraordinary are endless."
•Read more about it:
Honours even as Sylhet lift District Cup
Shadwell beat Ace in thriller to life Mayor's Cup 2018