Hanna-Mariam Chowdhury
EMDAD RAHMAN celebrated running 100 kilometres for Alzheimer's Research UK by joining the Mayor of Barking & Dagenham for tea. Emdad, who is also a Dementia Friends Champion, was joined at the reception by his three sons and Labour Party Cabinet Member Councillor Cameron Geddes.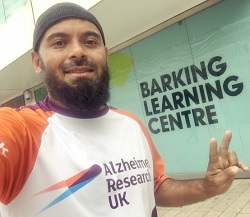 The experienced runner, who has started pounding the streets again after injury, was advised to break down his 100k target into bitesize figures to maximise the spotlight on what Running Down Dementia as a campaign is trying to achieve.
The Longbridge Ward resident completed his milestone during an early morning run past Barking Park, through Barking market and the Barking Town Hall path and along Broadway theatre before a mazy meander through Barking Abbey Ruins and Barking Riverside led to a finish and post-run selfie at the Barking Learning Centre.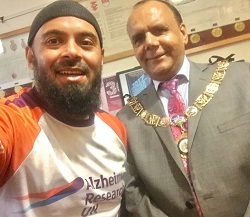 Mayor Abdul Aziz commented, "I wish to congratulate Emdad on this outstanding achievement today and this will inspire countless others to get involved in matters which benefit those who are most needy."
Councillor Cameron Geddes added, "Having known friends who have endured dementia I am so proud of our local resident Emdad for having completed his 100k as I know the money raised will be put to good use."
Emdad concluded, "Each day I look to make a difference through a gesture big or small. It's what inspires me to keep pushing. I'm delighted with this achievement but I'm already planning my next adventure."
•Alzheimer's Research UK is the UK's leading research charity aiming to defeat dementia. It powers world class studies that give us all the best chance of beating dementia sooner and funds a broad range of research projects to understand dementia and help drive towards better diagnosis, preventions and treatments.
•Running Down Dementia is a fundraising campaign with thousands taking part in the fightback against dementia. Right now there are 850,000 people with dementia in the UK alone, and every three minutes another person develops the condition. Around every one of those people are friends and family, often struggling themselves to keep life on track. But by participating in Running Down Dementia you give everyone hope by helping to fund vital research.
•For more information about living with dementia, go to:
https://www.alzheimers.org.uk/
•For more information about the Running Down Dementia campaign, go to:
www.runningdowndementia.org
•The support of runners like Emdad powers much needed research. Emdad's fundraising page is at:
https://give.everydayhero.com/uk/number7-rdd
•Read more about it:
Running Down Dementia – Emdad's story
Forum holds Dementia Friends session
[Adverts]