Emdad Rahman
SOCIAL WORK apprentice Imran Khan is celebrating with his team Stepney FC after receiving a recognition award from the Tower Hamlets Muslim Staff Forum (THMSF).
Khan was recognised as an outstanding Early Help Practitioner within the Youth Work sector. He has used and his knowledge while working with children and young people and he has produced outstanding outcomes.
Speaking after receiving the award, Khan said, "I'm humbled and honoured to receive this year's recognition from the Tower Hamlets Muslim Staff Forum and very grateful to everyone who played their part in helping me achieve this success. I am super excited to see what 2023 has in store."
Recently Khan changed roles to pursue a degree qualification in Social Work. In his citation the THMSF recognised Khan as a proud representative of the Local Authority and an asset deserving of this recognition.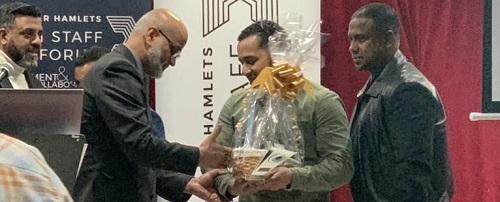 "The Borough is proud of individuals like Imran who make such a positive difference to the lives of so many local people," said Cllr Maium Miah Talukdar, Deputy Mayor of Tower Hamlets.
Stepney FC Chair Akik Miah commented, "I am very proud of Imran and his expertise is invaluable to the progress of the club. We all value him tremendously."
●To find out more about Stepney FC, go to:
Stepney FC
●Read more stories about football:
Football