TODAY WE return with a new series of The Thames Today.
The Thames forms the southern boundary of four East London boroughs: Tower Hamlets, Newham, Barking & Dagenham and Havering. In one way it is a barrier, sealing off one direction of exit. In other ways, it is a magnificent natural resource, which most of us take it for granted.
TTT shows us the Thames in a general sense: pictures were not always taken on the day of publication, though they are all contemporary. We hope you enjoy this brief glimpse of London's major river.
Today's photo was taken from the blue bridge onto the Isle of Dogs, looking north-east along the Thames, in summer 2019. The clouds are threatening – and Greenwich seems so close you could reach out and touch it. The blue awning at The Gun is just visible – and beyond that you can see development across south Newham.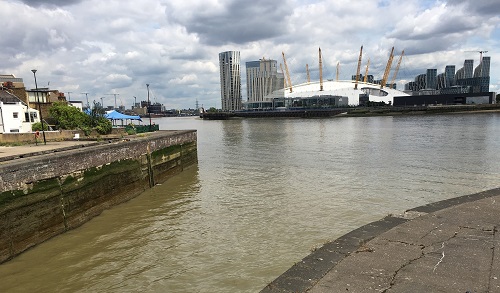 ●To see previous pictures of The Thames Today, go to:
The Thames Today
●If you have a photo of the Thames which you would like to share with our readers and viewers, please send it to us via our Facebook page, stating when and where it was taken and whether you would like a photo credit.