AMIR KHAN, the former unified Light Welterweight World Champion, and his wife, the global influencer Faryal Makhdoom, were  the guests of honour as The Ottoman Doner opened the doors to a new venture in Redbridge.
Huge crowds gathered in Ilford Lane for the official opening, with hundreds of Doners shared free of charge to a host of excited customers. The crowds had braved the cold weather and queued for hours to taste the customary kebabs – while hoping to catch a glimpse of the Khans, the model and branding superstar and the former World Champion.
The Ottoman Doner will be creating jobs for locals, and the team plan to extend their excellent community outreach programme to help Londoners this winter.
Cranbrook Ward Redbridge Labour Councillor Shamshia Ali commented, "I'm happy to be invited to the launch of this venture. I took a minute to talk to the management about how an enterprise like the Ottoman Doner can contribute to local Green issues, and I'm pleased to say that they are progressive in this regard. I wish them well – Welcome to Redbridge!"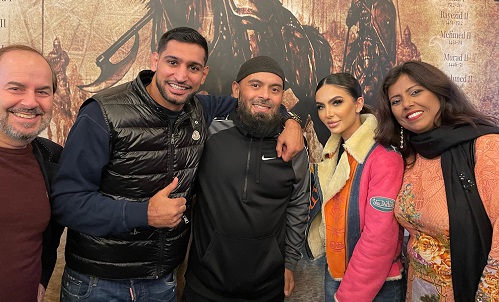 Faryal Makhdoom added, "Hey, it's really great being here, meeting such warm people, making new friends and helping launch the latest Ottoman Doner branch. The team have spared no expense in their quest to feed the community in style. Good luck to you all.
Khan, the former WBA and the IBF title holder, had done his homework, "The Ottoman Doner was recently voted Best Kebab Restaurant in South & East London at the recent British Kebab Awards and it's not hard to see why," he said. "The support and admiration of the fans has been phenomenal, and I am humbled by their presence. I love you all. I am pleased that the Ottoman Doner is now in your community. This is a company which does so much for the community and deserves our support and custom."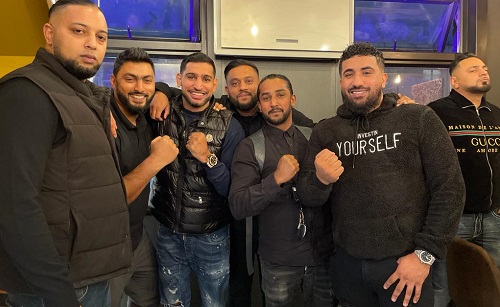 Apart from serving food, the team at The Ottoman Doner carry out a great deal of work in the background: their community outreach programme supports the homeless, rough-sleepers, and a soup kitchen. During the coronavirus national lockdown, hot meals and toiletries were shared with those facing isolation and hardship.
Abdal Ahmed from The Ottoman Doner concluded, "Today has been a memorable day for us. We thank our customers and our new neighbours for the fantastic welcome. We have an exciting winter support programme to help people get through the harsh winter ahead. Thank you Councillor Shamshia for attending and your valuable feedback, Faryal and Amir for gracing us with your presence. We are committed to serving our community with the very best."
●Read more about it:
Ottoman Doner picks up Best Restaurant award
The eve of Christmas Eve with One Third Soup Kitchen
●Watch East London's weekly news magazine programme,
live at 10pm every Tuesday and on demand all week:
The Tuesday Show